Fuzzy Wuzzy with an MP3 Recording
October 20th, 2005
Fuzzy Wuzzy is one of my favorite rhymes. Here are the lyrics, with an mp3 recording and an illustration.
Fuzzy Wuzzy
Fuzzy Wuzzy was a bear,
Fuzzy Wuzzy had no hair,
Fuzzy Wuzzy wasn't really fuzzy,
Was he?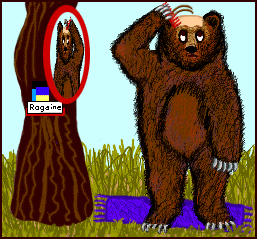 Come visit Mama Lisa's House to see more Illustrated Nursery Rhymes.
This article was posted on Thursday, October 20th, 2005 at 11:43 am and is filed under American Nursery Rhymes, Countries & Cultures, English, Fuzzy Wuzzy, Languages, Mama Lisa, MP3 Recordings, MP3's, Nursery Rhymes, Nursery Rhymes About Animals, Nursery Rhymes about Bears, Podcasts, Recordings of Nursery Rhymes, Rhymes by Theme, USA. You can follow any responses to this entry through the RSS 2.0 feed. You can skip to the end and leave a response. Pinging is currently not allowed.
One Response to "Fuzzy Wuzzy with an MP3 Recording"
Doris D'Andrea Says:
March 2nd, 2012 at 11:18 pm

The song I was lookin for:
Fuzzy Wuzzy was a bear, Fuzzy Wuzzy had no hair
Fuzzy Wuzzy wasn't Fuzzy was he

Fuzzy Wuzzy lost his crop, in a North Pole Barber Shop
Fuzzy Wuzzy wasn't fuzzy was he

All the seals in Hudson Bay, envied fuzzy fuzzy's fuz
Since they cut his rug away, he wasn't used to was
Fuzzy Wuzzy wasn't fuzzy was he?

Repeat Chorus
Leave a Reply