Fun Sweet "Sushi" to Make for Kids
March 25th, 2009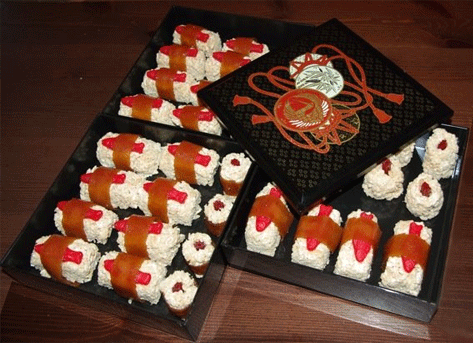 Yuta, Yoji and Miki made this awesome "sushi" for a school birthday party. It's made out of homemade rice crispy treats, gummy fish and fruit roll-ups. How cute and cool!
The one question everyone's asking is: How did they get the rice crispy treats to be soooo pure white? Any ideas? If so, please let us know in the comments below! (I also wonder where you get the faux lacquer boxes?)
Thanks!
Mama Lisa
This article was posted on Wednesday, March 25th, 2009 at 12:35 pm and is filed under Canada, Cooking with Kids, Countries & Cultures, Cuisine, Desserts, Food Sculptures, Japan, Japanese Cuisine, Kids Sushi, Mama Lisa, Miscellaneous, Parenting, Questions, Recipes of the World, Sushi, USA. You can follow any responses to this entry through the RSS 2.0 feed. You can skip to the end and leave a response. Pinging is currently not allowed.
7 Responses to "Fun Sweet "Sushi" to Make for Kids"
Leave a Reply