Fun Cooking with Kids: A Monkey on a Stick and a Ladybug Cookie
July 17th, 2008
My daughter made these great treats at our local library.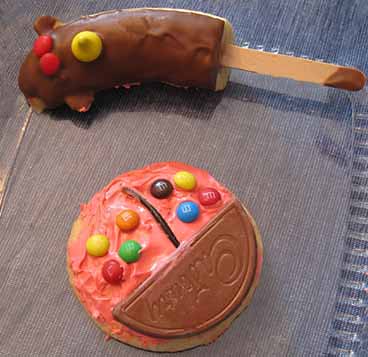 It shows what a little imagination and some candy can do! You can adapt these ideas to any theme for a kids party, a unit in the classroom or just for fun at home.
-Mama Lisa
3 Responses to "Fun Cooking with Kids: A Monkey on a Stick and a Ladybug Cookie"
Annette Says:
March 31st, 2009 at 1:26 pm

Do you have a recipe for the cute chocolate bananas?

vanessa Says:
April 27th, 2011 at 7:42 pm

so how did they do the monkey on the stick did they just dip in chocolate and put in freezer?

Lisa Says:
April 27th, 2011 at 7:47 pm

I think they dipped it in quick drying chocolate (the kind made for this type of project with kids). I would personally use "real" chocolate melted and dip the banana and chill in. The ears look like they might be peanut halves.
Leave a Reply