Foreign Lands – A Poem with Recording
October 9th, 2010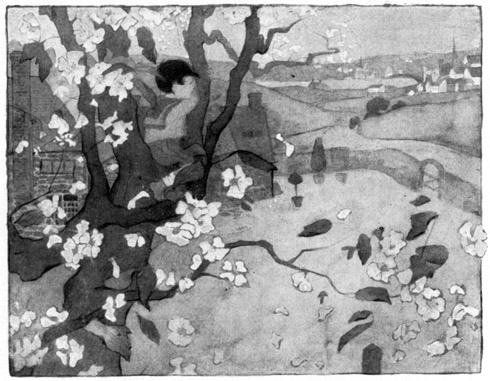 Foreign Lands is a lovely children's poem by Robert Louis Stevenson (1850–1894). Below you can find the words to the poem and listen to three readings of it…
Listen to a recording of Foreign Lands (mp3) #1
Read by Stephanie König

Listen to a recording of Foreign Lands (mp3) #2
Read by Steven Lamb

Listen to a recording of Foreign Lands (mp3) #3
Read by Chris Chapman

Foreign Lands

Up into the cherry tree
Who should climb but little me?
I held the trunk with both my hands
And looked abroad on foreign lands.

I saw the next door garden lie,
Adorned with flowers, before my eye,
And many pleasant places more
That I had never seen before.

If I could find a higher tree
Farther and farther I should see,
To where the grown-up river slips
Into the sea among the ships.

To where the roads on either hand
Lead onward into fairy land,
Where all the children dine at five,
And all the playthings come alive.
Foreign Lands was published in Stevenson's poetry collections A Child's Garden of Verses and Underwoods.

Illustration by E. Mars and M. H. Squire
This article was posted on Saturday, October 9th, 2010 at 11:20 am and is filed under A Child's Garden of Verses, Arts and Crafts, Books & Stories, English, Foreign Lands, Illustrations, Languages, Mama Lisa, MP3 Recordings, Poems, Poetry, Poets, Recordings, Recordings of Poems, Robert Louis Stevenson. You can follow any responses to this entry through the RSS 2.0 feed. You can skip to the end and leave a response. Pinging is currently not allowed.
Leave a Reply