Everything I Need to Know I Learned Cooking a Chicken
March 27th, 2011
So much was learnt because I never baked a whole chicken before.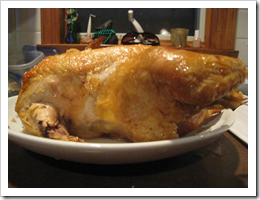 When I was younger, I was a vegetarian… now an occasional meat eater.  So I had never baked or carved a whole chicken. 
It was just one of those things. You know how you have those things that you just think you don't do?  Like cooking certain things – maybe a soufflé, surfing,  etc.  I'm sick of having a list like that.  It's time to go through it and cross off some things.
What don't you do?  What are ya waiting for? Get to it!
Mama Lisa
One Response to "Everything I Need to Know I Learned Cooking a Chicken"
emanuela Says:
April 6th, 2011 at 1:26 pm

What do you ask, Lisa?
Leave a Reply