Does Anyone Know a Story about a Torn Pea Being Sewed up with Black Thread?
April 13th, 2015
L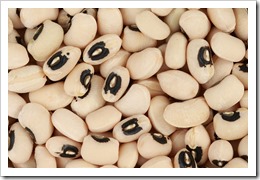 onnie wrote asking for help finding a story that his mother-in-law used to tell about the origin of black-eyed peas.  Here's his question:
I am trying to find a story my mother in law used to tell my daughter. All I can remember about it is the little pea tore something and it was sewn up with black thread and that's how the black eyed pea came to be. She was from the south and in 1980 was in her 60's so it is a very old story. I found one by the Bros grim that might be it or close to it The coal the straw and the pea. My daughter loved this story and she now has a daughter and would like to tell her the story. I have searched and searched and can't find it. Maybe you can help

Thanks so much. Lonnie
If anyone can knows this story, or if you know anything about it, please let us know in the comments below.
Thanks!
Mama Lisa
Image: "BlackEyedPeas" by Toby Hudson (Licensed under cc by-sa 3.0 via Wikimedia Commons)
This article was posted on Monday, April 13th, 2015 at 9:13 pm and is filed under Books & Stories, Countries & Cultures, England, English, Languages, Questions, Readers Questions, Stories, USA. You can follow any responses to this entry through the RSS 2.0 feed. You can skip to the end and leave a response. Pinging is currently not allowed.
2 Responses to "Does Anyone Know a Story about a Torn Pea Being Sewed up with Black Thread?"
gonsolin Says:
May 19th, 2015 at 5:55 pm

Bonsoir,

Il me semble que l'histoire que vous cherchez se rapproche de l'histoire collectée par les frères GRIMM. C'est le haricot la braise et le fetu de paille.
Vous la trouverez dans les recueils de contes,mais aussi sur internet.
Bonne lecture et surtout, à votre tour, racontez la,encore et encore.

Un grand merci à toute l'équipe de Mama Lisa
Carole

English Translation:

Good evening,

It seems to me that the story you're looking is like the story collected by the brothers GRIMM. It's "The Straw, the Coal, and the Bean".
You will find it in the collections of stories, but also on the internet.
Happy reading and above all, on your side, tell it over and over.

A big thank you to the entire team Mama Lisa
Carole

Lisa Says:
May 20th, 2015 at 1:49 pm

It seems that's the story! Here's the ending I found here:

"…The tailor looked all about him, and then he saw the bean lying on the ground. He picked it up, and it did not take him long to see what was the matter with it. 'This slit can be easily mended,' said he, and he whipped out his needle and thread and sewed up the bean in a trice. Unluckily he had only black thread, and the stitches made a line of black down the side of the bean. And ever since then, if you look, you will see that every bean of that kind has a black line down one side."
Leave a Reply