Day of the Dead Documentary
November 2nd, 2013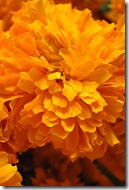 Below is an interesting documentary about the Mexican Day of the Dead filmed in 1957.
This quote from the video gives an idea of the feeling behind the Day of the Dead:
"Tears are shed for the living. We never shed tears for the dead. We must be very careful that no tears drop on this day because it would make the roads slippery and dangerous for the souls on their journey…"
Photo: Wikipedia
Leave a Reply