Criss Cross Applesauce – Rhymes and Sitting Style
July 10th, 2011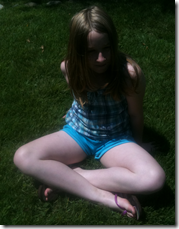 Adults used to tell kids to sit "Indian Style" when asking them to sit cross-legged on the ground. You don't hear that phrase used so much anymore.  According to my 4th grader, now they tell you to sit "Criss-Cross Applesauce" in pre-school.  In grade school, they tell you to "Sit Pretzel Style".
There's a rhyme that teachers say to students when they want them to quiet down and sit cross-legged on the floor.
Criss-Cross Applesauce
Give your hands a clap
Criss-Cross Applesauce
Put them in your lap.
There's another Criss-Cross Applesauce rhyme that people do on kids' backs.  Here are the words to it:
Criss-cross applesauce
Spiders crawling up your back
Cool Breeze,
Tight squeeze
Now you've got the shiverees!
Here's how you play this rhyme-game:
1. Make an "x" on the child's back.
2. Walk your fingers up the kid's back.
3. Blow on the child's neck.
4. Hug the child.
5. Tickle the kid's back!
This video shows how to play "Criss-Cross Applesauce":
This article was posted on Sunday, July 10th, 2011 at 6:08 pm and is filed under Uncategorized. You can follow any responses to this entry through the RSS 2.0 feed. You can leave a response, or trackback from your own site.
9 Responses to "Criss Cross Applesauce – Rhymes and Sitting Style"
Leave a Reply