Recipe for Cranberry Salsa Appetizer
Great for the Holidays or Any Occasion!
November 4th, 2005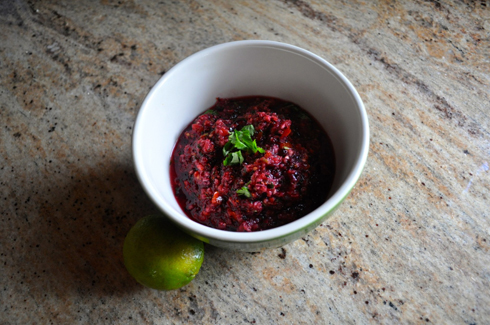 My sister, Gwen, first made this Cranberry Salsa a few years back for Thanksgiving. It went over so well, that she now makes it pretty much every time the family gets together. Here's the recipe…
CRANBERRY SALSA

1 bag rinsed, chopped, fresh cranberries
12 red cherry tomatoes
½ cup sugar (you can add more sugar if the salsa is too tart)
6 tablespoons minced cilantro
3 tablespoons chopped red onion
¾ teaspoon cumin
Juice from 1 lime
2 jalapeno chilis, stemmed, seeded, minced

Use a food processor; mix in medium bowl; serve with tortilla chips.
Thanks for sharing your delicious recipe Gwen!
Mama Lisa
Here's Mama Lisa's Thanksgiving Page with more Thanksgiving Songs, Poems and Nursery Rhymes.
This article was posted on Friday, November 4th, 2005 at 5:02 pm and is filed under Appetizers, Christmas, Christmas Recipes, Cranberry Salsa, Holiday Recipes, Holidays Around the World, Mama Lisa, Recipes of the World, Thanksgiving, Thanksgiving Recipes. You can follow any responses to this entry through the RSS 2.0 feed. You can skip to the end and leave a response. Pinging is currently not allowed.
6 Responses to "Recipe for Cranberry Salsa Appetizer
Great for the Holidays or Any Occasion!"
Leave a Reply