Corn Bread Recipe (Using Milk not Buttermilk)
January 28th, 2009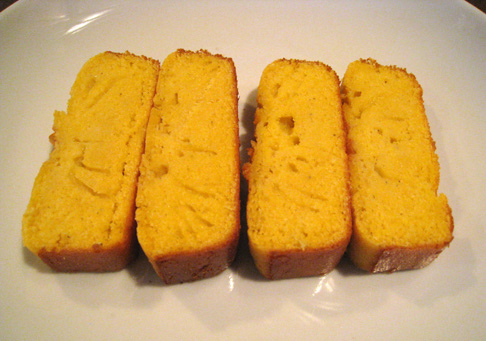 We like to have chili in the winter with fresh cornbread. It can be hard to find a corn bread recipe that uses milk instead of buttermilk. Since milk is much more readily available in my kitchen, I was pleased to find this recipe for cornbread with milk. The resulting bread is smoother than typical cornbread.
I adapted this recipe from a cookbook dating back to 1902 called 365 Luncheon Dishes.
Corn Bread Recipe
Preheat oven to 350 F.
Mix together 2 cups of cornmeal, 1 cup of flour, 1 teaspoon of salt, and 2 teaspoons of baking powder.
Beat together 3 eggs until thick and light. Add 2½ cup of milk and stir. Mix into the dry mixture. Then add in 2 tablespoons of sugar, and 2 tablespoons of melted butter. Beat well with a whisk until the batter is smooth.
Grease well two 8 x 5 inch baking pans (if you don't grease them well, the bread will stick). Divide the batter between the two pans. Bake for about 45 minutes, until golden brown.
Enjoy!
Mama Lisa
38 Responses to "Corn Bread Recipe (Using Milk not Buttermilk)"
Leave a Reply