Cookie Monster Cupcakes
September 28th, 2010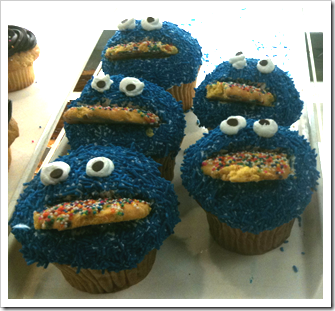 I came upon these wonderful Cookie Monster Cupcakes today in a Bagel Store/Bakery.  If you think about it, they should be easy to make.   Here's how I would go about making them…
1. Make large fluffy cupcakes (use a tin for large muffins).
2. Take a knife and cut out a slot where you're going to insert the cookie. 
3. Spread icing on the cupcake up to, but not touching, the "slot" you make for the cookie .
4.  Insert cookie into cupcake on an angle to make it look like it's coming out of a "mouth".  (I'm not sure if it's easier to ice it first or put the cookie in the mouth first.  You can try both ways to see which works best for you.)
5.  Cover icing area with blue sprinkles.
6.  Put a round dab of white icing for each eye.
7. Put a flat black sprinkle for the pupil of each eye, over the white dab of icing.
7.  Give one to a kid who loves Sesame Street!
Note: If you want to make the normal cupcake size version, use smaller cookies.  I think you could also make Elmo cupcakes with red sprinkles, but you'd have to be creative about the mouth.
Please let us know if you try it and if have any further advice.  We'd be happy to post your photos too.
Good luck and enjoy! 
Mama Lisa
Leave a Reply