Clouds – A Poem by Christina Rossetti with an MP3 Recording
May 13th, 2013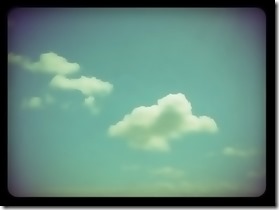 Here's a little poem about clouds by Christina Rossetti.
Clouds
by Christina Rossetti
White sheep, white sheep,
On a blue hill,
When the wind stops
You all stand still
When the wind blows
You walk away slow.
White sheep, white sheep,
Where do you go?
This article was posted on Monday, May 13th, 2013 at 12:15 pm and is filed under Christina Rossetti, English, Languages, MP3's, MP3's of Poems, Poems, Poems about Animals, Poems about Clouds, Poetry, Poetry about the Weather, Poets, Recordings, Recordings of Poems. You can follow any responses to this entry through the RSS 2.0 feed. You can skip to the end and leave a response. Pinging is currently not allowed.
4 Responses to "Clouds – A Poem by Christina Rossetti with an MP3 Recording"
Leave a Reply