Chrysanthemums in Japan
January 19th, 2016

"Chrysanthemums are quite auspicious here in Japan. I would say it is a noble flower for Japanese people.  It's even used as the seal (crest) of the Imperial Family. I like chrysanthemums and their scent." -Sadao Mazuka, Japan
Chrysanthemums are called キク属 Kiku Flowers in Japanese. Just like many other countries, they're a symbol of Autumn. There are chrysanthemum festivals in Japan every Fall. The plants are often treated like bonsai or topiaries in the months leading up to the festivals.  They're trained to grow in specific shapes. You can see this in the image below where the chrysanthemums make up the clothes of the statues of three people.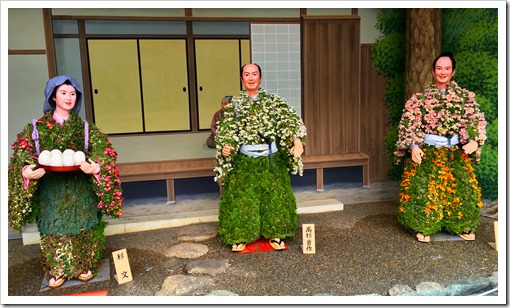 Image: Experiencetokyo.net
Read more: Chrysanthemums are more than just a symbol of autumn
One Response to "Chrysanthemums in Japan"
Tanaka Says:
January 19th, 2016 at 11:45 pm

I visit my local shrine every year to see 菊 flowers. Specific shape is difficult tradition and art. Few people can do this today.
Leave a Reply