Children's Song in Spanish called "Rima de las frutas" (The Rhyme of the Fruit)
November 30th, 2015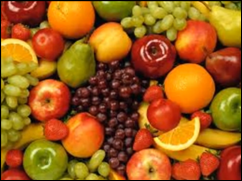 Mexican Singer and songwriter, Arturo Altamirano, shared with us his fun Spanish children's song about fruit.
You can listen to his song "Rima de las frutas" (The Rhyme of the Fruit) by clicking on the mp3 recording below.  Follow along with the original Spanish lyrics and an English translation.  After that, you can watch a YouTube video of the song.
MP3 Recording of Rima de las frutas

Rima de las frutas

Y el viejo pelón,
se come un melón.

Y a todos los changos,
les gustan los mangos.

De noche y de día, 
yo como sandía.

Qué come la niña, 
ya sabes su piña.

Y a esa bailarina, 
pues la mandarina.

El niño en su cuna,
ya quiere su tuna.

Y para Teresa, 
pues claro la fresa.

La mula y el asno, 
denle su durazno.

La enferma no sana, 
pues denle manzana.

No corras espera, 
te obsequio una pera.

Que bajes que subas, 
que traigas las uvas.

Que corras que vayas,
por esas papayas.

Yo sé que disfrutas, 
con gusto las frutas.

Cualquiera disfruta, 
comerse una fruta.

English Translation:

The Rhyme of the Fruit

The bald old man 
is eating a melon

And all the monkeys 
like mangoes.

Night and day, 
I eat watermelon.

What does the girl eat? 
You know her pineapple.

What about this dancer? 
Well, a tangerine.

The baby in his cradle
wants his prickled-pear.

And as for Theresa, 
well for sure, strawberries.

To the mule and the donkey… 
give them their peach.

The ill lady doesn't get better, 
so give her an apple.

Don't run, wait! 
I'll reward you with a pear.

Whether you go up or down
bring the grapes.

Whether you walk or run 
for these papayas,

I know you enjoy 
fruit with pleasure.

Everybody enjoys 
eating fruit.
Here's Arturo's YouTube of this song…
Many thanks to Arturo Altamirano for sharing this song with us!  You can hear more of Arturo's music on his YouTube Channel.
Enjoy!
Mama Lisa
Leave a Reply