Cherry Blossom Viewing in Japan
March 21st, 2016
The Cherry Blossoms are in bloom in parts of Japan.  People visit parks and have cherry blossom (sakura) viewing picnics.
Sadao Mazuka wrote, "On the TV news, they said that the first sakura started blooming yesterday in Tokyo.  But it's not so warm here now, so we suppose the full bloom will be at the end of this month."
Here's a woodcut print circa 1772 – 1776 by Japanese artist, Kitao Shigemasa, showing three women and a man having a small tea party beneath blossoming cherry trees.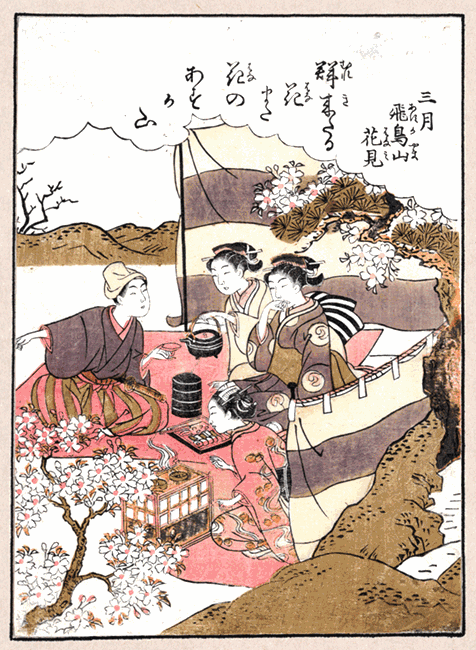 Part of the text on the print is the following Haiku poem (author unknown):
群れ来たる
花また花の
あすか山
Murekitaru
Hana mata hana no
Asuka-yama
(All flocked together
Blossoms upon blossoms
Asuka Hill.)
Sadao Mazuka commented on the poem and its translation, starting with a literal translation of the Japanese text:
群れ (group or crowd) 来たる (coming or came)
花また花の (flowers and flowers)
あすか山 (Asuka hill or mountain)

The English explanation describes both arboreal and human "blossoms" and I completely agree with this description. The picture expresses as such the mood of the cherry viewing with beautiful girls in it.

Beautiful girls are also flowers.

When we are walking with two beautiful girls on the right side and the left side, we say "I am keeping flowers on both hands. = 両手に花 (ryoute-ni-hana)" with a proud smile at someone lol.

I can also mention that あすか山 (Asuka hill or mountain) is only a forest and not such a high hill.  It's near to JR-Ohji (王子) station in Kita-ku Tokyo. See photo below…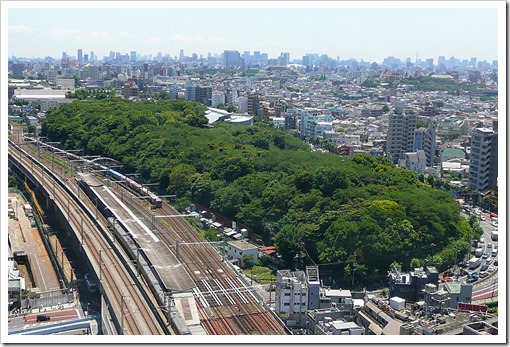 Thanks for sharing this with us Sadao!
Enjoy the Cherry Blossoms!
Mama Lisa
Check out more Cherry Blossoms Prints online at the Library of Congress site.
Leave a Reply