Cherokee Lullaby – Usdi Yona
January 26th, 2018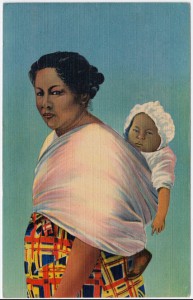 The Cherokee Heritage Documentation Center posted a video of a traditional Cherokee lullaby called ᎤᏍᏗ ᏲᎾ (pronounced as "usdi yona"). It means "little bear". "Usdi" also means "baby".
According to the site, it was men who used to sing lullabies to children. You can hear men singing this in an old recording that's played at the beginning of the video.
In the video below, you can hear Dora Dunn teaching Ryan Mackay how to sing the song in Cherokee. The whole video is in the Cherokee language, but you can easily understand her pronouncing the lullaby. Then they sing it too…
Here's the pronunciation as it sounded to me in the video…
Usdi yona
Usdi yona
Osta clegy
Osta clegy
Gi ah kay la da
Usdi yona
Osta clegy
Osta clegy
If anyone can provide the lyrics in Cherokee and/or a translation, that would be wonderful! You can either add it to the comments below or email me.
Enjoy!
Mama Lisa
Image: "A Cherokee Mother carrying her baby Indian-style on the Cherokee Indian Reservation" from Indigenous peoples Women Mothers Infants Portraits from the Durwood Barbour Collection of North Carolina Postcards (P077).
This article was posted on Friday, January 26th, 2018 at 7:17 pm and is filed under Cherokee, Cherokee, Countries & Cultures, Lullabies, Mama Lisa, Native American Lullabies, Questions, Readers Questions, YouTube. You can follow any responses to this entry through the RSS 2.0 feed. You can skip to the end and leave a response. Pinging is currently not allowed.
2 Responses to "Cherokee Lullaby – Usdi Yona"
Barbara Warren Says:
January 31st, 2018 at 2:33 pm

I happened across your website this morning via "Usti Yona." I would like to offer two Cherokee children's songs found on our album, "Keeper of the Family," by Shining Woman and Otsigeya (meaning "we women" in Cherokee). All songs have Cherokee words. The translations can be found under "Music" on the website.

All 21 songs on 2 CDs can be heard on YouTube at: https://www.youtube.com/watch?v=w9ntJAafMJM&list=PL_auyJcTMKQlLU9OUiB8-adSrSb0VtnQK

This album is a celebration of women and their important role as keepers of the family, life givers, and mothers of mankind.

In 2017 "Keeper of the Family" was nominated for six songs for the Indian Summer Music Awards (ISMA) and won in two categories. "Keeper of the Family" also received a 2017 Native American Music Award (NAMA) nomination.

I offer three children's songs from the album for posting on your website if you choose to use them: "Usti (Cherokee Lullaby)," "Colors Are Everywhere" (teaches the color words in the Cherokee language), and "Selu Gadu" (melody from "Shorten' Bread" and the lyrics in Cherokee and English about Corn and Beans which are a traditional food).

With a 40-year career as a Kindergarten teacher, I commend you for your wonderful website!

Respectfully,
Barbara Warren aka Shining Woman

Greywolf Says:
November 12th, 2019 at 2:26 am

Usdi yona (Little Bear)
Usdi yona (little bear)
Osda hlega (good for a while)
Osda hlega (good for a while)
Tsiyagilada (eating loudly)
Usdi yona (little bear)
Usdi yona (little bear)
Leave a Reply