Check Out Celeriac – It's Celery Root – Interesting Veggie, plus a Recipe
December 5th, 2008
Celeriac, or celery root, is a well-known vegetable root in France. It's called céleri-rave in French.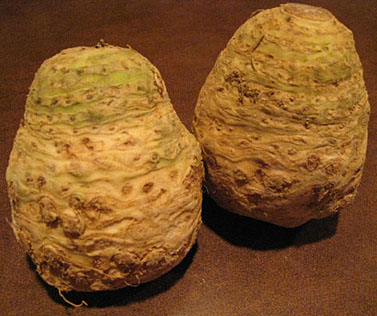 I got some this week at our vegetable CSA (a club we belong to where we pay in advance and get delicious organic veggies delivered from a farm every week).
One way to eat them is to make a salad out of them. You peel the roots first. Then you shred them. According to Suzanne at our CSA, the French eat them with a mustard dressing. That's how I prepared them for my husband, my teenage son and me. I'll post that recipe below.
My 7 year old daughter would never go for a celeriac mustard dressing salad! So I took out some of the shredded celery root. I placed it in a microwave safe bowl. Sprinkled a little bit of water over it. Put a little pat of butter on it and a sprinkling of salt. I covered it and microwaved it for one minute. It was quite good! My daughter ate about half of it – which I would call fairly successful considering that she's a pretty picky eater.
Here's the recipe for the salad…
Celery Root Salad with Mustard Dressing
2 Celery Roots
3 ½ T. Olive Oil (I prefer using Extra Virgin)
½ Freshly squeezed Lemon (plus more if desired)
Pinch salt (to taste)
Grinding Black Pepper (to taste)
Pinch Sea Salt (if you have it)
2 T. Mustard (Preferably French – like Grey Poupon – you can use less or more depending on if you like a kick or not)
Peel and shred celery roots. I used a food processor for the shredding.
Put olive oil, lemon, salt, sea salt and pepper in bowl and stir well until mixed. Add in mustard. Mix well and adjust to suit your taste. (When my teenage son is eating it with us I put a little less mustard in.)
Add in the shredded celery roots and stir.
Bon appétit!
Many thanks to Suzanne Zoubeck for suggesting the French way of preparing celery root. We really enjoyed it!
-Mama Lisa
This article was posted on Friday, December 5th, 2008 at 1:28 pm and is filed under Celeriac Salad, Countries & Cultures, Food and Nutrition, France, Mama Lisa, Parenting, Recipes of the World, Salads, Side Dishes, USA. You can follow any responses to this entry through the RSS 2.0 feed. You can skip to the end and leave a response. Pinging is currently not allowed.
7 Responses to "Check Out Celeriac – It's Celery Root – Interesting Veggie, plus a Recipe"
Leave a Reply