Terms of Respect in Botswana
January 11th, 2012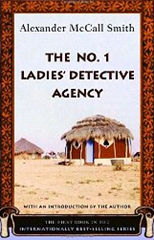 I'm currently reading a series of books that takes place in Botswana called  The No. 1 Ladies Detective Agency by Alexander McCall Smith.
When reading the first book, you quickly come upon the term "Mma" (pronounced "ma") used before a woman's name and "Rra" (pronounced "ra" with a rolling "r") used before a man's name.  I was curious and looked them up.  They're both terms of respect used in the Setswana language. "Mma" is like "Ma'am" or "Madam", or a more respectful form of "Mrs."  "Rra" is like "sir", or a very respectful form of "Mr."
"Dumela" can be used before "Rra" and "Mma" to say, hello sir or ma'am. 
You can hear a Botswana Greeting Song called Dumela below…
This article was posted on Wednesday, January 11th, 2012 at 11:09 pm and is filed under Books & Stories, Botswana, Customs and Traditions, Greeting Customs, Hello Songs, Setswana, Songs by Theme, Tswana, Words & Phrases. You can follow any responses to this entry through the RSS 2.0 feed. You can skip to the end and leave a response. Pinging is currently not allowed.
7 Responses to "Terms of Respect in Botswana"
Leave a Reply