Book Review: Tofu Ling and the Carp Banner
September 28th, 2011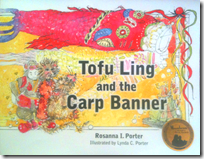 Tofu Ling and the Carp Banner by Rosanna I. Porter is a story about the meaning of the Japanese Festival of Tango No Sekku (Boys' Day)… The day celebrates not only strength but also character.
In the story, Tofu Ling practices for a Tae Kwon Do tournament that is to be held the day before Tango no Sekku.  Meanwhile, his grandfather hurts his ankle.  Tofu gives up practicing to help his grandpa. 
Tofu has the integrity to put his grandfather's well-being above winning the tournament.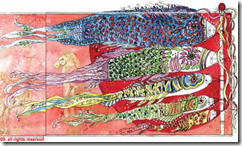 The illustrations by Lynda C. Porter are wonderful! They're filled with Japanese symbolism.  The symbols are explained in the back of the book.  For example, the carp is a symbol of strength, perseverance and courage.  You'll see illustrations of carps throughout the story. 
There are also suggestions for art and math activities to do with your class in the back of the book.
Tofu Ling and the Carp Banner is a nice book for exposing young children to the festival of Tango no Sekku and the culture of Japan.
Enjoy!
Mama Lisa
Leave a Reply