Blueberry Pie Recipe made with Fresh, Unbaked Blueberries… Yum!
June 30th, 2009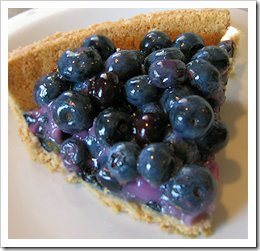 My sister, Gwen, makes this wonderful blueberry pie every summer.  This blueberry pie recipe leaves most of the blueberries uncooked.  What's so great about that is that you get the plumpness of fresh blueberries in your pie.  (It doesn't have the gooey feel of a baked blueberry pie – that might be more appropriate for the cooler weather).  My sister's pie is a very refreshing treat in the hot weather!
Blueberry Pie Recipe
Ingredients:
6 cups of Blueberries (2 1/2 pints) washed & drained
1/4 – 1/2 cup Cold Water
5 Tbsp. Flour or Cornstarch (we use flour)
Pinch of Salt 
1/2 – 1 cup Sugar (depends tartness of berries)
1/2 cup Water
10 inch Pie Shell Baked (My sister uses frozen – I used a Graham Crust in the photo above.)
1)  Wash and drain berries thoroughly. Mix together 1/4 cup cold water, flour & salt to make a smooth paste (add more water as necessary to make a smooth paste).
2)  Mix 1 cup blueberries, sugar,  1/2 cup water and paste in saucepan. Bring to a boil and stir until mixture thickens. [Smush the blueberries a bit with a wooden spoon while they're cooking in the pot to get a blue-colored blueberry-tasting mixture.] Remove from stovetop to cool.
3)  When mixture is cool add remaining berries and put into already baked pie shell.
4)  Optional – top with fresh whip cream. Mix 1 pint of heavy cream with 2 – 3 Tbsp. of confectionary sugar and whip with mixer.
Enjoy!
Many thanks to my sister, Gwen Eichler, for sharing her recipe with us!
Mama Lisa
5 Responses to "Blueberry Pie Recipe made with Fresh, Unbaked Blueberries… Yum!"
Leave a Reply