Are You Familiar with "Little Johnny Jump-up"?
April 25th, 2007
Deloy wrote:
"Does anyone have a copy of the 'Little Johnny Jump Up' song from the 1930's?
The beginning words are:
'Little Johnny Jump Up, That's my name.
Early in the Spring time up I came.'
…….( can't recall all the words)…….
'Don't you like my smiling face,
Shining in a sunny place.'
……( Help me find this song)……
Signed: DeLoy Johnson
"Johnny-Jump-Up" can refer to violets or pansies. A "Johnny Jump Up" is also a European wildflower flower called heartsease. Heartsease can also be used as an herb.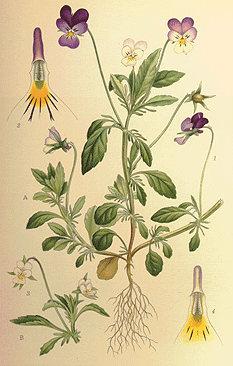 Please comment below if you can help with this song.
Thanks! Lisa
This article was posted on Wednesday, April 25th, 2007 at 8:37 pm and is filed under American Kids Songs, Australia, Canada, Children's Songs, Countries & Cultures, English, Languages, Questions, Readers Questions, United Kingdom, USA. You can follow any responses to this entry through the RSS 2.0 feed. You can skip to the end and leave a response. Pinging is currently not allowed.
16 Responses to "Are You Familiar with "Little Johnny Jump-up"?"
Leave a Reply