Apple Pie Recipe + An Apple Pie Riddle
October 3rd, 2006
In my last post I talked about how we went apple picking a couple of weeks ago. The lady who owns the orchard recommended that we store the apples in the refrigerator. I have to say that they lasted for a long time that way. They lasted for the whole couple of weeks we had them, during which time I made my family 2 apple pies, plus one more to bring to my in-laws this past weekend. We're now all ready to go up a pants size, but what are you going to do!
I used frozen deep dish crust for my pies, instead of making the crust homemade. It's much quicker and it still tastes very good. I highly recommend eating the pie when its very warm with vanilla ice cream on top. Nothing beats it!
One last note about the apples is that I used a wide variety and would recommend the same. You can mix tart and sweet apples for an interesting flavor. I used Jonalicious, Sweet 16, Macintosh and Gala apples – which is what we picked. I've only seen the last two in the food store to buy. You can mix Macintoshes, Galas, Golden and Red Delicious apples if you'd like for a very tasty mixture.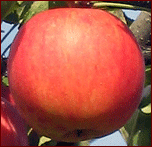 Here the recipe that I used to make my apple pies…
Apple Pie

2 Frozen Pie Crusts
8-10 small to medium Apples (7 cups sliced)
1 T. Lemon Juice
1/4 c. Dark Brown Sugar
1/2 c. Sugar
1 t. Cinnamon
1/4 t. Nutmeg
1/8 t. Salt
2 T. Flour
1 t. Butter

Mix to Sprinkle on Top
2 t. Sugar
1/8 t. Cinnamon

Preheat oven to 425°F.

Peel, core and cut the apples into 1/4 inch slices. You should have 7 cups of apple slices. Then mix the apples with the brown sugar, granulated sugar, cinnamon, nutmeg, flour, and salt. Let sit on the side (stir every once in a while).

Take out the 2 frozen pie crusts. Turn one of the pie crusts out of its pan and onto wax paper. Leave the other in its pan. Let sit for 10-15 minutes.

Stir apple mixture one last time and pour into the pie crust that's in the pan. Put little pieces of the butter around the top of the apple mixture. Wet the rim of the crust with a little water. Gently place the second crust over the pie, trying to match up the ends of the bottom crust and the top crust. With a fork, press down around the ends of the crust, pressing the 2 crusts together. Make four neat slits on the top crust to allow the steam to escape. Sprinkle mixture of 2 t. sugar and 1/8 t. cinnamon on top of pie.

Place a cookie sheet under the pie. Bake for 15 minutes at 425°F. If the crust is starting to get too dark you can put aluminum foil loosely over the top of the pie at this point to prevent it from burning.

Reduce oven heat to 375°F and cook for about 45 more minutes. The pie is done when the apples feel tender when poked with a butter knife.

After the pie has cooled you can reheat it in a 325°F oven for about 15 minutes.

Serve with vanilla ice cream or whipped cream.
Good eatin'!
Lisa
PS. Here's the Apple Pie Riddle, it's an old one…
Apple-pie, pudding, and pancake,
All begins with an A.
It's more of a brain teaser. Of course, you just have to think of the last line, that All begins with an A, because pudding and pancake do not!
UPDATE: Check out a later post for an Apple Pie Recipe with Lower Sugar and for a Recipe for Gluten Free Baked Apple.
This article was posted on Tuesday, October 3rd, 2006 at 2:28 pm and is filed under Apple Pie, Countries & Cultures, Desserts, English, English Nursery Rhymes, Languages, Mama Lisa, Nursery Rhymes, Recipes of the World, United Kingdom, USA. You can follow any responses to this entry through the RSS 2.0 feed. You can skip to the end and leave a response. Pinging is currently not allowed.
Leave a Reply