Airplane Travel with Children
April 4th, 2008
We brought our kids along during our recent trip to Europe. It was great having them with us and they really enjoyed it. But traveling with children is not always easy. Here's some tips, based on our experience:
1) Bring snacks like granola bars (you probably want to avoid high sugar snacks that would hype them up!).
2) Don't bring drinks since you'll be forced to throw them out at security.
3) Bring a handheld electronic game if your child has one – like a Gameboy. That can keep kids amused for hours! My husband brought his laptop and played Chess with our teenaged son. That kept them busy for a couple of hours till their power ran out.
4) For younger kids, bring sticker books. That kept my daughter occupied for an hour or two during the flight there and back.
5) If your kid likes to draw, bring a pad of paper with pencils, crayons, and/or markers.
6) Make sure older kids have a book or magazine. Some preteens and teenagers like Sudoku or puzzle books to pass the time. Younger kids can bring a couple of their favorite books too.
7) We had problems with the headphones the airlines provided. So if you have an extra pair at home, you may want to bring them on the trip to make sure your child can hear the movie or TV shows that are on.
8) If you have a long flight overseas, you may want to pack a little stuffed animal that your child likes. It may help him or her sleep. It was nice for our six year old to have it on the trip. She carried her stuffed pony all throughout the subways of Paris!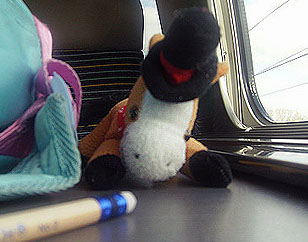 9) If it's at all possible, try to fly non-stop. That way you don't have to go through the hassle of getting on and off the plane more than once. Plus, you and your kids will be spared the possible discomfort in your ears of an extra take-off and landing.
It's a good idea to have your children pack a backpack for the trip with some amusements of their choice.
Feel free to let us know about any tips you have for air travel (or travel in general) with children in the comments below.
This article was posted on Friday, April 4th, 2008 at 3:22 pm and is filed under Mama Lisa, Traveling, Traveling with Kids. You can follow any responses to this entry through the RSS 2.0 feed. You can skip to the end and leave a response. Pinging is currently not allowed.
5 Responses to "Airplane Travel with Children"
Leave a Reply