A Snowflake Poem
December 10th, 2012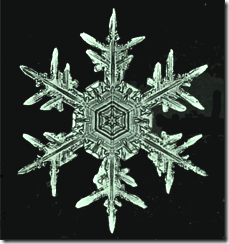 Here's a poem about a wandering snowflake…
MP3 Recording of Whenever a Snowflake
Whenever A Snowflake Leaves the Sky
When e'er a snowflake leaves the sky
It turns and turns, to say good-bye.
Good-bye, dear clouds, so cool and gray.
Then turns and hastens on its way.
But when a snowflake finds a tree
Good-day, it says, good-day to thee.
Thou art so bare and lonely, dear,
I'll rest and find a playmate here.
But when a snowflake brave and meek
Lights on a little maiden's cheek,
It starts–how warm and mild the day,
'Tis summer; and it melts away.
This article was posted on Monday, December 10th, 2012 at 6:31 pm and is filed under English, Languages, Poems, Poems about Snow, Poems about Winter, Poetry, Poetry about Summer, Poetry about the Seasons, Poetry about the Weather. You can follow any responses to this entry through the RSS 2.0 feed. You can skip to the end and leave a response. Pinging is currently not allowed.
Leave a Reply