A Snowflake Poem
December 10th, 2012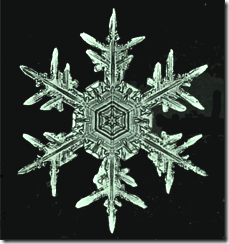 Here's a poem about a wandering snowflake…
MP3 Recording of Whenever a Snowflake
Whenever A Snowflake Leaves the Sky
When e'er a snowflake leaves the sky
It turns and turns, to say good-bye.
Good-bye, dear clouds, so cool and gray.
Then turns and hastens on its way.
But when a snowflake finds a tree
Good-day, it says, good-day to thee.
Thou art so bare and lonely, dear,
I'll rest and find a playmate here.
But when a snowflake brave and meek
Lights on a little maiden's cheek,
It starts–how warm and mild the day,
'Tis summer; and it melts away.
Leave a Reply