A Poem about a Purple Cow with an MP3 Recording
June 1st, 2008
Here's a little poem I just found. I feel like I've heard of a purple cow somewhere before…
THE PURPLE COW

Reflections on a Mythic Beast,
Who's Quite Remarkable, at Least.

I never saw a Purple Cow,
I never hope to see one;
But I can tell you, anyhow,
I'd rather see than be one.

by Gelett Burgess (1866 – 1951)
I personally would love to see a purple cow!
I found this illustration done by Burgess. I had to edit it to make it one image (it was split to fit two pages of a book). So it looks slightly different from the original…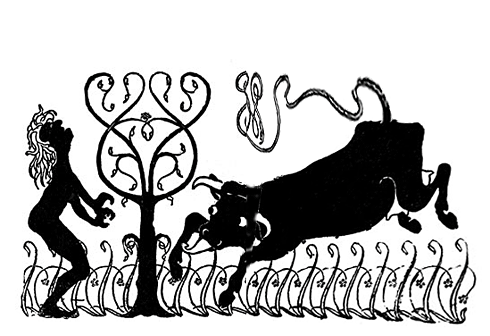 If anyone knows of any other poems or rhymes (or stories) about purple cows, feel free to share them with us in the comments below.
-Mama Lisa
This article was posted on Sunday, June 1st, 2008 at 10:40 pm and is filed under Countries & Cultures, English, Gelett Burgess, Languages, Poems, Poetry, Poets, Purple Cow, USA. You can follow any responses to this entry through the RSS 2.0 feed. You can skip to the end and leave a response. Pinging is currently not allowed.
3 Responses to "A Poem about a Purple Cow with an MP3 Recording"
Simone Cox Says:
June 2nd, 2008 at 12:16 am

Actually, I come from Germany originally and there the purple cow is well known as the cow in all the ads and on the wrapping of the very tasty Milka chocolate. I've grown up with that image….

Lisa Says:
June 2nd, 2008 at 6:46 pm

Monique from France wrote to me to say she remembers the purple Milka cow too! Click the link to see a picture of the purple Milka cow.

I don't remember seeing this in the U.S. It looks like it's only in Eastern and Western Europe.

-Mama Lisa

Lisa Says:
June 27th, 2008 at 9:06 pm

Gelett Burgess became mostly known for his Purple Cow poem. So much so that later he wrote this poem:

Cinq Ans Apres. (5 years later)

(Confession: and a Portrait, Too,
Upon a Background that I Rue!)

Ah, yes! I wrote the "Purple Cow"-
I'm Sorry, now, I Wrote it!
But I can Tell you, Anyhow,
I'll Kill you if you Quote it!
Leave a Reply