A Memorial Day Poem
May 22nd, 2009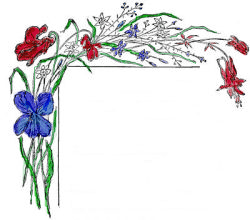 MEMORIAL FLOWERS.
By M. M.
Blue violets open their saintly eyes,
Red columbines bend and sway,
White star-flowers twinkle in beds of moss,
And, blooming, they seem to say,
"We bring you the red and the white and the blue
To welcome Memorial-day."
So gather them, children, at earliest dawn,
While yet they are fresh with dew,
And we'll scatter them over the sacred mounds
Where slumber our soldiers true;
For we'll give them only the colors they loved-
The red and the white and the blue.
This article was posted on Friday, May 22nd, 2009 at 12:38 pm and is filed under Countries & Cultures, English, Holiday Poems, Holidays Around the World, Languages, Mama Lisa, Memorial Day, Memorial Day Poems, Poems, Poetry, USA. You can follow any responses to this entry through the RSS 2.0 feed. You can skip to the end and leave a response. Pinging is currently not allowed.
One Response to "A Memorial Day Poem"
Diane Yannucci Says:
May 22nd, 2009 at 2:21 pm

This is a perfect poem for memorial day weekend.
Leave a Reply