A Little about Indonesia with some photos of Indonesian Kids!
August 20th, 2009
I learned this week that Indonesia has tens of thousands of islands.  According to the Encyclopedia Britannica, Indonesia has 13,670 islands, over half of which are inhabited.  Wikipedia puts the number over 17,000.  The truth is that the number of islands continuously changes due to seismic activity in the area.
Indonesia is the fourth most populous country in the world, after China, India and then the US.
Here's a photo taken by Marlina Efrida of some Indonesian kids.  What I love about this photo is that it shows how children are alike all over the world.  Our kids love to make faces and signs when they have their photos taken too!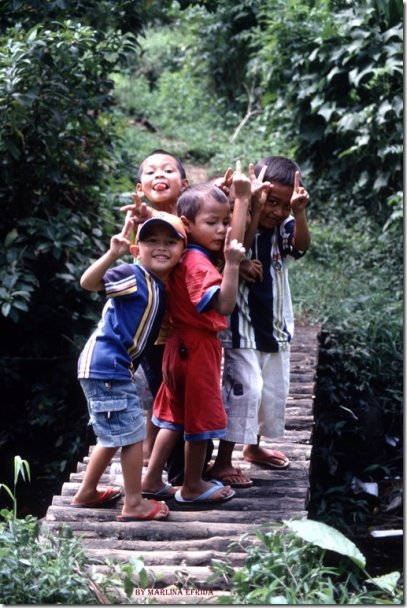 Here's another lovely photo from Indonesia by Marlina…
If you'd like to share any photos from your country, feel free to email me.
Many thanks to Marlina Efrida for sharing her photos and to Lin Fdln and Dedy Subandowo for telling me about Indonesian life!
Come visit the Mama Lisa's World Indonesia pages for Indonesian kids songs.
Cheers!
Mama Lisa
7 Responses to "A Little about Indonesia with some photos of Indonesian Kids!"
Leave a Reply