A Dual Language Comic in Spanish and English
June 28th, 2017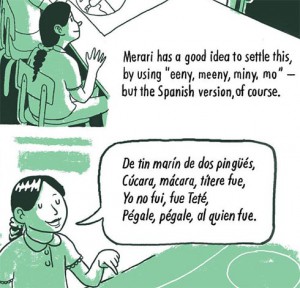 Comics are a great way to learn foreign languages!
There's a dual language comic by LA Johnson on NPR about dual language learning for children. You can read it here.
In addition to being interesting, the comic mentions "Eenie, Meenie Miney Moe" in Spanish. It's called, Tin marín de dos pingüé. You can hear a recording of it and learn the rhyme here on Mama Lisa's World.
Enjoy!
Mama Lisa
This article was posted on Wednesday, June 28th, 2017 at 3:25 pm and is filed under Bilingual, English, Language Learning, Languages, Languages, Learning, Mama Lisa, Spanish. You can follow any responses to this entry through the RSS 2.0 feed. You can leave a response, or trackback from your own site.
Leave a Reply