A Bell, A Bird and Me – A Japanese Poem
April 3rd, 2017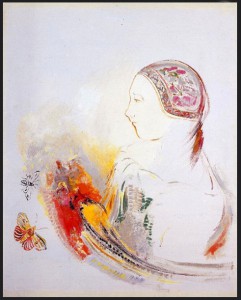 The poem 私と小鳥と鈴と (A Bell, a Bird and Me) was written by Japanese poet, Misuzu Kaneko (1903 – 1930). Kaneko was first published in 1923. Her work was known during her lifetime, yet after her early death and the advent of WWII it was forgotten.
A Japanese poet named Setsuo Yazaki discovered Kaneko's poem "Big Catch" in 1966. He became enamored with her work and eventually tracked down her brother who still had her diaries with her poems. Through Yazaki's efforts Kaneko was rediscovered in Japan.
Below you can find the Japanese text of her poem 私と小鳥と鈴と (A Bell, a Bird and Me), with an English translation, the pronunciation and a YouTube animation…
私と小鳥と鈴と
私が両手をひろげても、
お空はちっとも飛べないが、
飛べる小鳥は私のやうに、
地面(じべた)を速くは走れない。

私がからだをゆすっても、
きれいな音は出ないけど、
あの鳴る鈴は私のやうに、
たくさんな唄は知らないよ。

鈴と、小鳥と、それから私、
みんなちがって、みんないい

A Bell, A Bird and Me
(English Translation)
Even if I spread out both hands,
I cannot fly at all in the sky,
But the bird that can fly
Cannot run fast on the ground like me.
Even if I shake my body,
It doesn't make beautiful sounds,
But the ringing bell
Doesn't know as many songs as me.
A bell, a bird and me,
Everyone is different, everyone is good.
Pronunciation:
Watashi ga ryōte o hiroge te mo,
o sora wa chittomo tobe nai ga,
toberu kotori wa watashi no yō ni,
jimen ( ji beta ) o hayaku wa hashire nai.
Watashi ga karada o yusutte mo,
kirei na oto wa de nai kedo,
ano naru suzu wa
watashi no yō ni,
takusan na uta wa shira nai yo.
Suzu to, kotori to, sorekara watashi,
minna chigatte, minna ii
If you'd like to read more of Kaneko's poetry, an illustrated book of Kaneko's poetry was released in 2016 with English translations. It's called Are You an Echo?: The Lost Poetry of Misuzu Kaneko. You can read more about the book here.
Enjoy!
Mama Lisa
3 Responses to "A Bell, A Bird and Me – A Japanese Poem"
Syaheeda Hamdani Says:
May 21st, 2019 at 8:20 am

Hi there, I'm currently on writing a translation projects in poetry particularly from Japanese poets to Malay language. And I appreciated your sharing in this post. May I ask you, the English translation of Misuzu poetry here, is it source by the book itself (Are You An Echo?) or are you translating it by yourself?

Lisa Says:
May 21st, 2019 at 8:30 pm

I translated it.

Liam Murray Says:
August 6th, 2022 at 1:52 am

Thank you for sharing, I am glad to have these poems and the English translation. I'm enjoy learning poetry in Japanese as it makes me more excited to learn the language and appreciate the poetry.
Leave a Reply