200 Year Old Family Recipe for Manicotti
February 6th, 2012
My daughter's class had a multicultural celebration recently where each kid interviewed a relative about a recipe that's been handed down in the family.  My daughter interviewed my Mom about her manicotti recipe. Here's part of what she learned: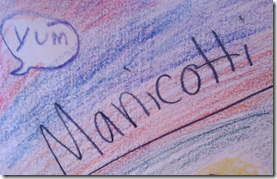 "Manicotti is from Italy, and it's been in my family since 1810.  It was passed down from my great great-grandma De Luca to my grandmother in 1962 (after she got married).  It was a very popular recipe in the village in Italy that my relatives came from.  Can you believe that after all these years my grandmother never changed it?
It came from Naples, Italy and it is a common recipe for Italian Americans.  My family eats it for Christmas every year. The recipe is great!  Here it is…"
Manicotti: Great Great Grandma De Luca's Recipe

Ingredients

Homemade Tomato Sauce

Crepe Ingredients (Makes 20)

2 cups Flour
2 Eggs
1 cup Milk
1 3/4 cup Water +
1 tsp. Salt
1 tsp. Sugar
1 T. Oil

Ingredients for Cheese Filling

2 lbs. Ricotta Cheese
8 oz. Mozzarella Cheese (cut into 1/3 inch cubes)
2 Eggs
1/2 cup grated Romano Cheese
Salt and Pepper

Directions

1. Have your favorite tomato sauce made in advance.



2. Crepe Recipe (Makes 20-24 crepes)

Mix flour, milk, eggs, water, salt, sugar and oil in a large bowl with electric mixer or whisk. The batter should be mixed well. It should be a light batter.

If the first crepe is too heavy add more water to the batter (only a little at a time).

You will need a small frying pan 5 or 6 inches in diameter. Use butter or margarine to grease frying pan. Before making each crepe, swipe the stick of butter over the frying pan and then start again. The stovetop should be on medium heat. Use 1/4 to 1/3 cup of batter for each crepe. Cook crepes on each side until firm.

Cut up paper towels into 2 inch wide strips and put between crepes so they don't stick together. Crepes can be stored in the refrigerator for a day or overnight.

If you do refrigerate them, let them warm up to room temperature before taking apart the stack of crepes.

3. Mix the ingredients for the cheese filling.  (There's Mom helping me make the manicotti!)



4. Cover the bottom of a 9 by 12″ pan with sauce.



5.  Put about a tablespoon of cheese filling into each crepe.

6.  Fold over two sides of crepe over the cheese filling so it's like a log.

7.Place all the filled crepes in a row in the pan. Then put a layer of sauce over top of all the crepes. You should be able to fit 8-10 crepes in the pan.


Buon appetito!
Mama Lisa
This article was posted on Monday, February 6th, 2012 at 5:17 pm and is filed under Christmas, Christmas Recipes, Countries & Cultures, Cuisine, Food Memories, Holiday Recipes, Holidays Around the World, Italian, Italian American Cuisine, Italian Cuisine, Italy, Languages, Main Course, Mama Lisa, Manicotti Recipe, Parenting, Recipes of the World. You can follow any responses to this entry through the RSS 2.0 feed. You can skip to the end and leave a response. Pinging is currently not allowed.
37 Responses to "200 Year Old Family Recipe for Manicotti"
Leave a Reply