Ball del bressol
Cradle Dance
Children's Song
Children's Song
I el nen es petit
tot mig adormit
sa mare s'el mire.

No el deixa mai sol
i a dins del bressol
ditxos en suspire.

El nen ja n'es gran,
la mare plorant,
l'en diu cada dia.

No en vaiguis de nit
i surt del brogit
treballa, estudia.

Veient-lo perdut,
i tot desmaiat
perque no bas vingut
aqui al meu costat.

Li en bese la cara,
li en bese la front,
petons d'una mare,
la mes gran del mon.
The small child
Is half asleep
His mother watches him.

She never leaves him alone
And inside the cradle
Joyful he sighs.

The child has grown,
The mother, crying,
Every day tells him:

Never walk alone
And keep far from trouble,
Work hard, study hard.

Seeing him lost
And fainting:
Why didn't you come
To me, by my side?

She kisses his face,
She kisses his forehead,
Kisses from a mother
The greatest in the world.

Thanks to Susan Pomerantz for playing this piece on the piano.
Sheet Music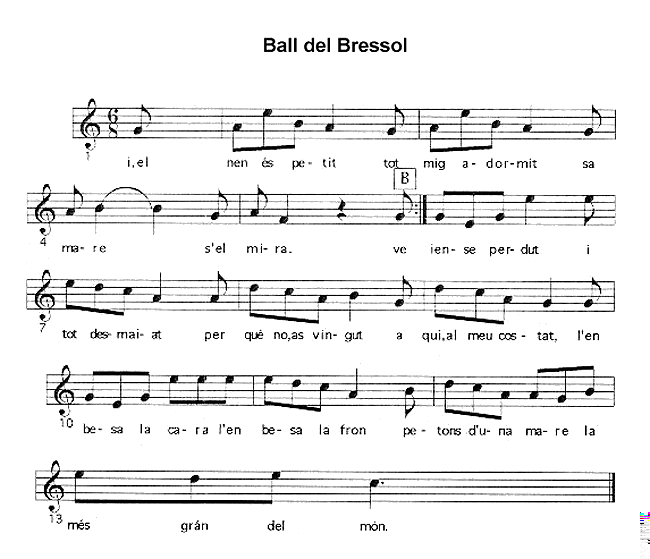 Thanks and Acknowledgements
Many thanks to the Andorra Department of Tourism for contributing this nursery rhyme song and sheet music.

Thanks also to Guillem for translating this song.
Moltes gràcies!