This is sung or chanted to the tune of the English song "London Bridge is Falling Down"...

Telephone Song
Children's Song
Children's Song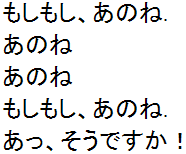 Hello, un-huh
Un-huh
Un-huh
Hello, un-huh
You don't say!
Notes
Romanji - Transliteration

Denwa no uta

Moshi moshi, ano ne.
Ano ne,
Ano ne,
Moshi moshi, ano ne.
Ah so desu-ka!
Comments
Here's the computerized text: (we apologize if it doesn't display properly on your screen):

でんわのうた or 電話の歌 (in Kanji)

もしもし、あのね.
あのね
あのね
もしもし、あのね.
あっ、そうですか!

Many thanks to Susan Pomerantz for playing the tune on the piano.
Sheet Music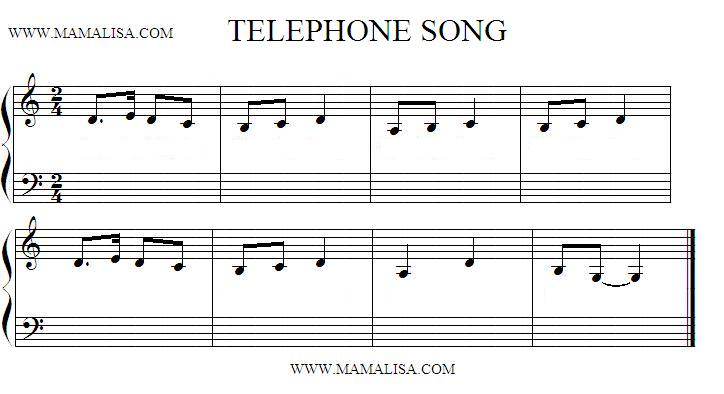 Thanks and Acknowledgements
Many thanks to Carolyn Barras for sending this song and for the English translation and to Devon Thagard at Knock Knock English's site, Super Simple Songs, for his comments about the meaning of the words in English and for help with the Japanese text and transliteration. Thanks to Monique Palomares for the midi tune.
Arigato gozaimasu!