Tango no Sekku is celebrated on May 5th. In Japan, this day is called Boys' Festival. Large carp windsocks, called koinobori, are displayed outside houses of families with boys. The carp is a symbol of Tango no Sekku, because carp are considered strong and determined. Here's a traditional song for Tango no Sekku called the Koinoburi Song or Carp Windsocks…

Carp Windsocks
Boys' Festival Song
Boys' Festival Song

Carp windsocks are above the roof.
The biggest carp is the father,
The smaller carp are children,
They're enjoying swimming in the sky.
Notes
Transliteration – Rōmaji (Romanji) of Koinobori

Yane yori takai koinobori.
Ookii magoi wa otōsan.
Chiisai higoi wa kodomotachi.
Omoshiro Souni Oyoideru.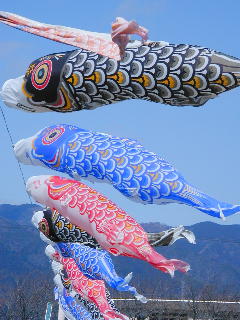 Comments
Here's the computerized Japanese text for Koinobori (we apologize if it doesn't display properly on your monitor):

こいのぼり

やねよりたかい こいのぼり
おおきいまごいは おとうさん
ちいさいひごいは こどもたち
おもしろそうに およいでる

*****

If you'd like to read more about Tango no Sekku or Boys' Festival in Japan, there's a post about it on Mama Lisa's World Blog. Click the link to read all about it.

The Carp Windsock photo comes from a site where you can see more photos of carp windsocks. Just click on the link to get there.

Many thanks to HAMADA Miwa and team at the University of Toyama for allowing me to use the Koinobori recording and midi from their wonderful site of Japanese Songs. On their site you'll find the Japanese lyrics to many Japanese children's songs and folk songs. You'll find transliterations of the songs, recordings, midis and sheet music.

Thanks and Acknowledgements
Thanks to Petter Mæhlum for help with the transliteration
Arigato gozaimasu!