Moonlight on the Ruined Castle
Traditional Song
Traditional Song

Cherry blossoms gracefully bloom o'er the fields that lie,
High up is the castle wall, where have warriors gone?
Where is the moonlight that brightly shone up high,
Shone upon the warriors who drained the glasses dry?

White frost o'er the autumn camps freezing the whole night,
Flocks of wild geese cry and pass just below the moon.
Where is the moonlight that might have shone so bright,
Shone upon the warriors' swords gleaming through the night?

Oh, the moon is rising high in the depths of night,
Silent is the ruined site lying on the ground,
Ivies creep o'er the gate in the cold moonlight,
Rustling are the pine trees through the windy night.

To rise and fall is people's fate, the moon shines so bright,
Looking down upon the world lying far below,
How sublime the moonlight o'er the ruined site,
How I love the moon that shines in the depths of night!
Notes
Transliteration Rōmaji (Romanji)
Kojo No Tsuki - Moonlight on the Ruined Castle

Haru koro no hana no en
Meguru sakazuki kage sashite
Chiyo no matsu ga e wake ideshi
Mukashi no hikari Ima izu ko

Aki jinei no schimo no iro
Nakiyuku kari no kazu misete
Uurutsurugi ni terisoishi
Mukashi no hikari ima izu ko

Ima kojo no yowa no tsuki
Kawaranu hikari ta ga tame zo
Kaki ni nokoru wa tada kazura
Matsu ni uto wa tada arashi

Tenjo kage wa kawaranedo
Eiko wa utsuru yo no sugata
Utsusan toteka ima mo nao
Ah! Kojo no yowa no tsuki

*****

Here's the Japanese text in computerized format (we apologize if it doesn't format correctly on your monitor):

荒城の月

春高楼の花の宴
めぐる盃 影さして
千代の松ヶ枝わけいでし
むかしの光今何処

秋陣営の霜の色
鳴きゆく雁の数みせて
植うるつるぎに照りそひし
昔のひかりいまいづこ

今荒城の夜半の月
変らぬ光誰がためぞ
垣に残るは唯かづら
松に歌ふはたゞ嵐

天上影はかはらねど
栄枯は移る世の姿
うつさんとてか今もなほ
ああ荒城の夜半の月

*****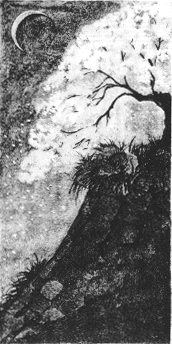 Many thanks to Susan Pomerantz for playing this tune on piano.
Thank you also to John Caughman for sending me the 2nd recording of this song. In John's recording, he sang the first verse in Japanese and then in English. You can visit John Caughman's site called Daygig Music to hear more of his songs!
Thank you also to Sadao Mazuka for sending me the 3rd recording of this song. Sadao Mazuka wrote me in June 2004, "I am sending the song of Kojo No Tsuki, or Moonlight on the Ruined Castle... I am 65 years old and was an engineer of NTT. So I am completely an amateur on singing. Not so good singing but it is my pleasure if it would be a kind of reference for your Web." - We do appreciate your recording as it lets us follow along with the transliteration to hear how to pronounce it. Thanks again! Lisa
Sheet Music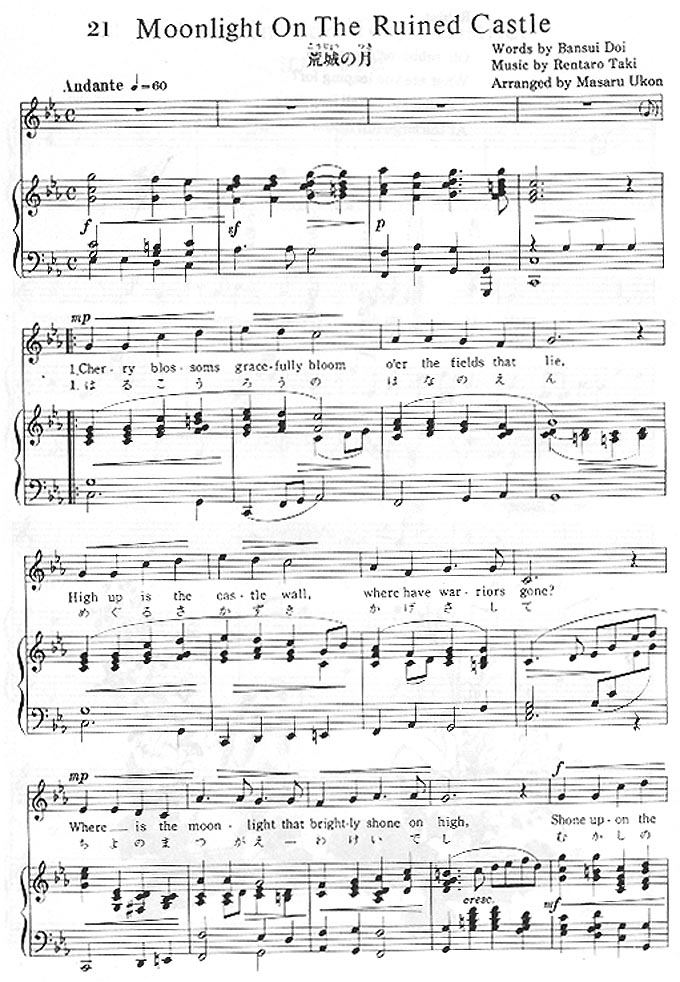 Thanks and Acknowledgements
Many thanks to the Japan Information and Culture Center, a part of the Embassy of Japan, for contributing this song, the English translation, the illustration and the sheet music.
Arigato gozaimasu!