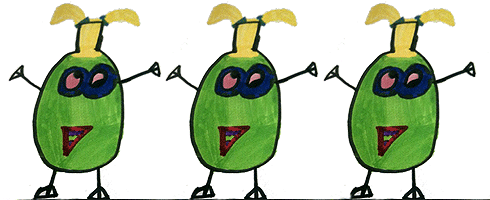 Haat-tim-a-tim-tim, They Lay Eggs
Nonsense Rhyme
Nonsense Rhyme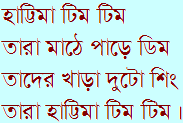 Haat-tim-a-tim-tim,
They lay eggs in the field.
They have two straight horns,
They are the Haat-tim-a-tim-tim.

Notes
Transliteration

Haattimatimtim,
Tara maathe pare dim.
Tader khara duto shing,
Tara Haattimatimtim.
Comments
I asked Purabi from Bangladesh if she was familiar with the Bengali rhymes we have. She wrote back: "Yeah, I'm very much familiar with both rhymes. I think the rhyme 'Hat-ti-ma-tim-tim' is known to almost all children (specially among the educated section of people)!"
Computerized Text
(We apologize if this doesn't display properly on your screen):
হাট্টিমাটিমটিম
তারা মাঠে পাড়ে ডিম
তাদের খাড়া দুটো শিং
তারা হাটিমাটিমটিম

Thanks and Acknowledgements
Many thanks to Sabikunnahar Ripa for contributing this song. The translation and transliteration come from the open source site Wikijunior Languages/Bangla. Thanks to Lila for the great illustration!
Dhonnobad!