Lèva-te viste
Get Up Quickly
Christmas Carol
Christmas Carol
Lèva te viste, Bortomieu !
Lèva-te per l'amor de Dieu !
Vai te'n veire sus la teulada,
Çò que se passa per l'arada.
E se quicòm charma ton uèlh,
Donaràs un còp de fiulèl.

Vesi venir tres mossurets,
Totis ribans, totis boquets.
Que ne cantan tant bèlis aires,
En l'onor de la Vièrge Maire,
Per engausir lo Rei del Cèl,
Cantan çò que i a de pus bèl.

Vai te'n cargar lo gilet blanc,
Per vesitar aquel enfant.
Regarda plan lo cèl, escota,
Nos podèm pas trompar de rota,
Anem, anem, fasem camin,
Arribarem deman matin !

L'estela que lusís al lènh,
Nos menarà a Bètelèm.
E quand aurem trobat l'estable,
Ont es aquel Dieu tant aimable,
Li donarem nòstris presents,
E tornanem totis contents.
Get up quickly, Bartholomew!
Get up, for the love of God!
Go and look on the roof at
What's happening in the field,
And if something catches your eye,
Blow the whistle.

I see three young men come,
Full of ribbons, full of bouquets,
Who sing such beautiful songs
In honor of the Virgin Mother,
To celebrate the King of Heaven
They sing the most beautiful things.

Go and put your white vest on
To visit this child.
Take a good look at the sky, listen,
We can't take the wrong road,
Come on, come on, let's get started,
We'll arrive tomorrow morning!

The star that shines far away
Will lead us to Bethlehem
And when we've found this stable
Where this lovable God is,
We'll give him our presents
And we'll come back very happy.

Sheet Music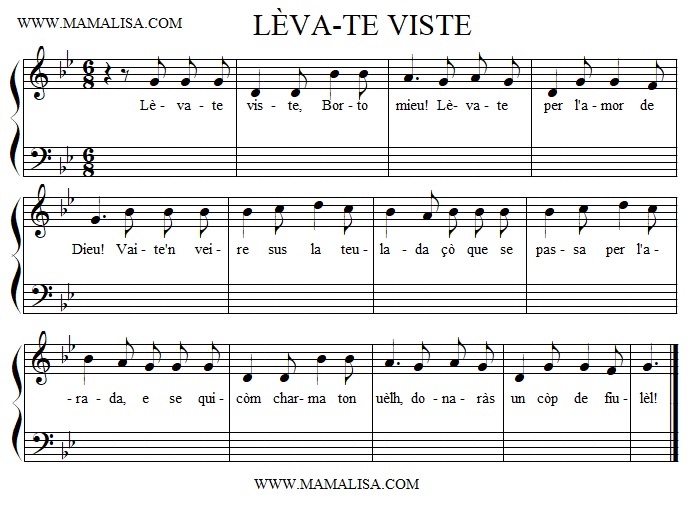 Thanks and Acknowledgements
Translated by Lisa Yannucci and Monique Palomares.