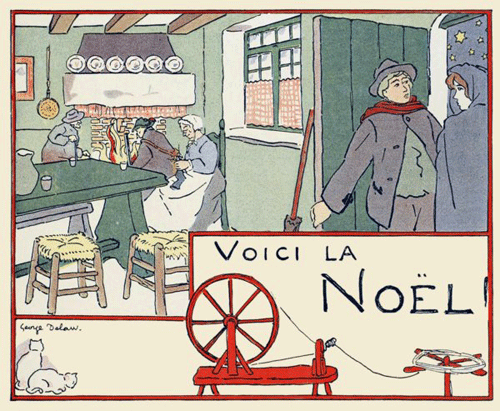 Voici la Noël
Christmas is Here
Chanson de Noël
Christmas Carol
Voici la Noël, le temps des veillées
Voici la Noël, le temps des veillées
Tous les fiancés sont à l'assemblée.

(Refrain)
Va mon ami va
La lune se lève
Va mon ami va
La lune s'en va !

Tous les fiancés sont à l'assemblée
Tous les fiancés sont à l'assemblée
Le mien n'ira pas, j'en suis assurée.

(Refrain)

Le mien n'ira pas, j'en suis assurée
Le mien n'ira pas, j'en suis assurée
Il est à Paris ou bien en Vendée.

(Refrain)

Il est à Paris ou bien en Vendée
Il est à Paris ou bien en Vendée
Qu'apportera-t-il à sa bien-aimée.

(Refrain)

Qu'apportera-t-il à sa bien-aimée
Qu'apportera-t-il à sa bien-aimée
Chapelet d'argent, ceinture dorée.

(Refrain)

Chapelet d'argent, ceinture dorée
Chapelet d'argent, ceinture dorée
Ou bien le bouquet de la fiancée.

(Refrain)


Christmas is here, time of evening gatherings*
Christmas is here, time of evening gatherings,
All the fiancés are at the get-together.

(Refrain)
Go my friend go
The moon rises,
Go my friend go
The moon is gone!

All the fiancés are at the get-together
All the fiancés are at the get-together
Mine will not go, I'm sure of it.

(Refrain)

Mine will not go, I'm sure of it
Mine will not go, I'm sure of it,
He's in Paris or Vendée.

(Refrain)

He's in Paris or Vendée
He's in Paris or Vendée,
What will he bring his beloved?

(Refrain)

What will he bring his beloved?
What will he bring his beloved?
A silver rosary, a golden belt.

(Refrain)

A silver rosary, a golden belt
A silver rosary, a golden belt
Or the bride's bouquet.

(Refrain)

Notes
*Monique wrote, "In this song, the 'veillées' are the meetings in the evening, after the meal, which were done during wintertime. People would meet each other in turn to spend the evening and do jobs that could not be done in the summertime when the days were longer and the weather more mild and they were busy in the fields."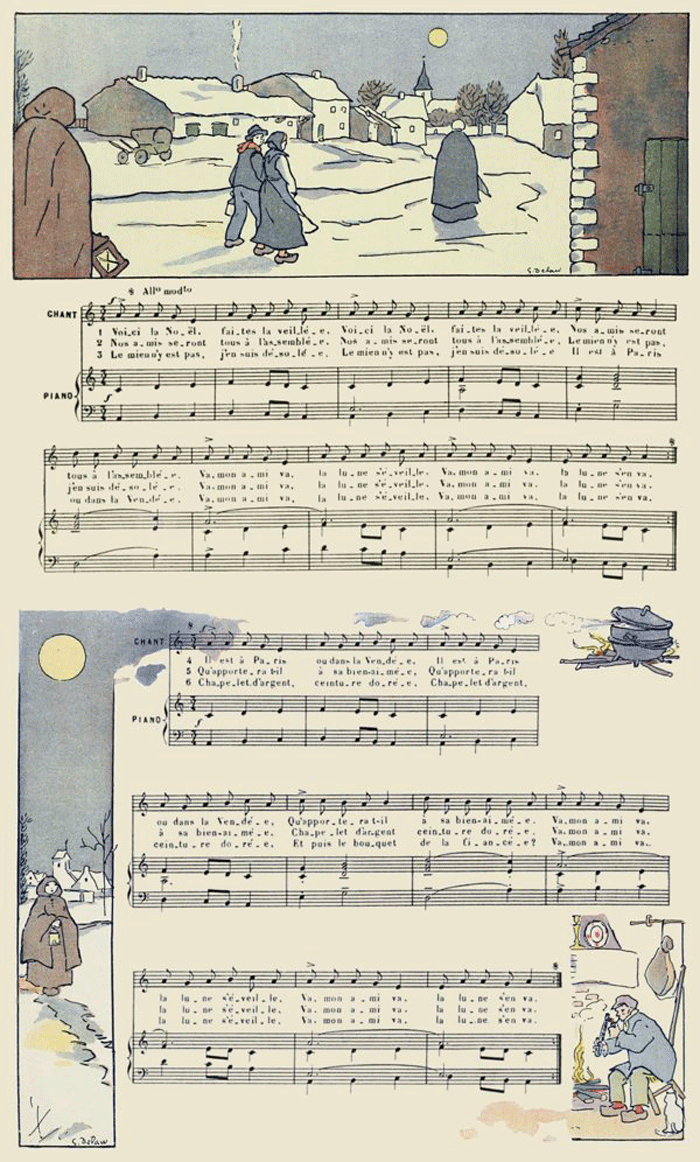 Comments
This song has at least two tunes as you can see in the two scores given here. You can hear both tunes in the midi.


Sheet Music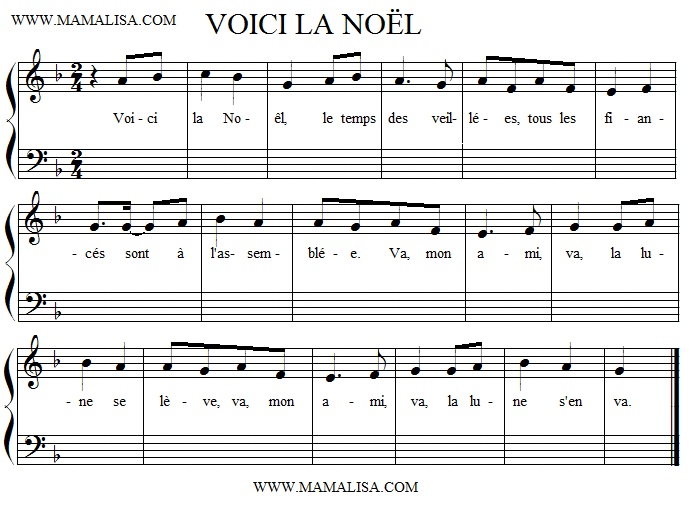 Thanks and Acknowledgements
Thanks to Monique Palomares for her comments explaining about 'veillées'.

This song can be found in "Gai, gai, marions-nous, Chansons de France" (1921) by Gabriel Pierné, illustrations by George Delaw.