Bon voyage, Monsieur Dumollet
Bon Voyage, Mister Dumollet
Chanson enfantine
Children's Song
(Refrain)
Bon voyage, Monsieur Dumollet,
A Saint-Malo débarquez sans naufrage;
Bon voyage, Monsieur Dumollet,
Et revenez si le pays vous plaît.

Si vous venez voir la capitale,
Méfiez-vous des voleurs, des amis,
Des billets doux, des coups, de la cabale,
Des pistolets et des torticolis.

(Refrain)

Là vous verrez les deux mains dans les poches,
Aller, venir des sages et des fous,
Des gens bien faits, des tordus, des bancroches,
Nul ne sera jambé si bien que vous.

(Refrain)

Des polissons vous feront bien des niches,
À votre nez riront bien des valets,
Craignez surtout les barbets, les caniches,
Car ils voudront caresser vos mollets.

(Refrain)

L'air de la mer peut vous être contraire,
Pour vos bas bleus les flots sont un écueil,
Si ce séjour enfin, sait vous déplaire,
Revenez-nous avec bon pied, bon œil !
(Chorus)
Bon voyage, Mr. Dumollet*,
Land without sinking at Saint-Malo,
Bon voyage, Mr. Dumollet,
And return if the country pleases you.

If you come to see the capital,
Beware of thieves, friends,
Love letters, punches, plots,
Guns and stiff necks.

(Chorus)

There you'll see hands in pockets,
Coming and going, wise men and fools,
People well-made, twisted and lame,
No one will be as steady on their feet as you.

(Chorus)

Some rascals will fool you,
To your face, many valets will laugh,
Fear especially the water spaniels, the poodles,
For they'll want to bite you on your calves.

(Chorus)

The sea air may be contrary to you,
For your blue socks the waves are a pitfall,
If this stay in the end displeases you,
Return as fit as a fiddle!

(Chorus)

Notes
*Dumollet translates literally as "of-the-calf" (leg calf).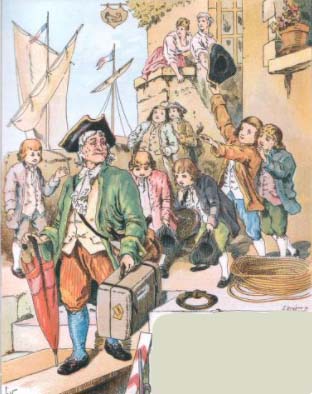 Sheet Music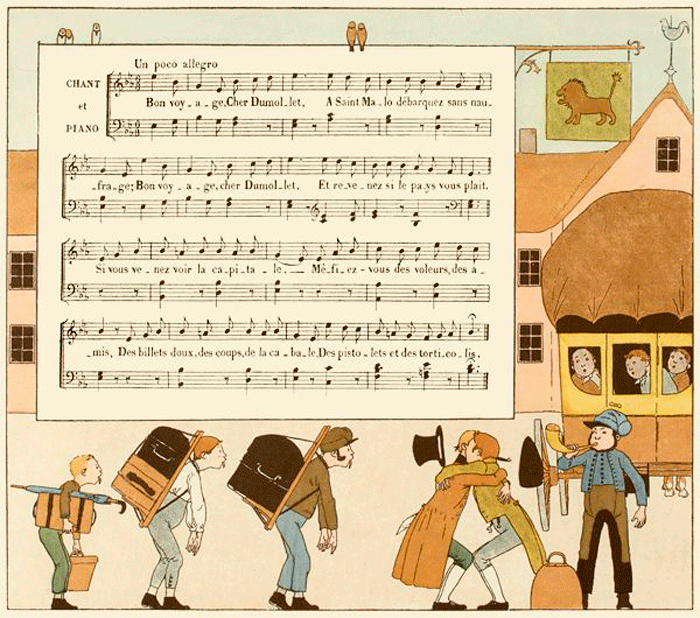 Thanks and Acknowledgements
This song can be found in "Chansons de France pour les petits Français", (1886) scores by J.B. Weckerlin, illustrations by M. Boutet de Monvel. 2nd image from "Nouvelles chansons et rondes enfantines", (1886) by Jean-Baptiste Weckerlin.

English translation by Lisa Yannucci.