"'Baby kaa fo' is a widely known lullaby in Ga language (also know as Nkran language) sung by Ga's and non-Ga's alike. It is usually accompanied by cuddling the baby in both arms and gently rocking the baby from side-to-side which quiets them down really fast." -William (from Ghana)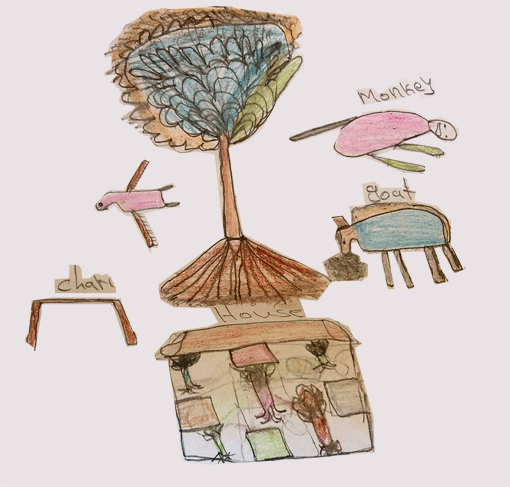 Baby, kaa fo
Baby, Don't Cry
Baby, kaa fo
Mgbe o mami e te?
E te lai
Mini e shi ha bo
E shi mi akpakpa
Ha mi eko ma ye
Inha bo fai!
Kε o mami ba, ma kεε lε
Kε o papa ba, ma kεε lε
Yaa yaa wushi-o!
Yaa yaa wushi-o!
Baby, don't cry,
Where has your mother gone?
She's gone to the farm.
What did she leave for you?
She left me a pawpaw.
Give me some to eat.
I won't give you a thing!
When your mother comes back, I'll tell her.
When your father comes back, I'll tell him.
Yaa yaa wushi-o!*
Yaa yaa wushi-o!*

Notes
*Nonsense words.

*****

Note on the Pronunciation:

"The 'Ke', 'Kee' and 'le' are replaced by 'Kε', 'Kεε', 'lε' for the 'E' to sound like 'E' in 'bet'. For the standalone 'E' and other two letter words ending in 'E', the E sounds like the leading sound in eight. 'Mgbe' and 'akpakpa' have phonemes produced by 'gb' (like the 'gb' in 'tugboat' with no pause) and 'kp' (like the 'kp' in 'stockpot' with no pause) that don't have English phonetic equivalents." -William

Note: If you're interested in learning more about Ga see this pdf for info on pronunciation and vocabulary.
Comments
Ama shared this song with the note, "I am not a Ga but I have a Ga nanny who has taught this to my children."

William wrote from Ghana, "The composition and translation for 'Baby kaa fo' is very well done."

Marantha wrote, "It is of Ga (language spoken by the natives of Accra in Ghana) origin. It is sung by the fishermen as the canoes are actually pulled ashore. This is to get all ready to pull at one time, and this is sung repeatedly as they pull bit by bit."
Thanks and Acknowledgements
Many thanks to Ama for sending the lyrics and translation of this song. Thanks to William and Marantha for commenting on it. Thanks to Del and the children at Wullingkamma Nursery School and Lower Basic in The Gambia for the wonderful illustration.
Oyiwala doŋ!