The song is also known as "L'orage" (The Rainstorm) or "L'hospitalité" (Hospitality).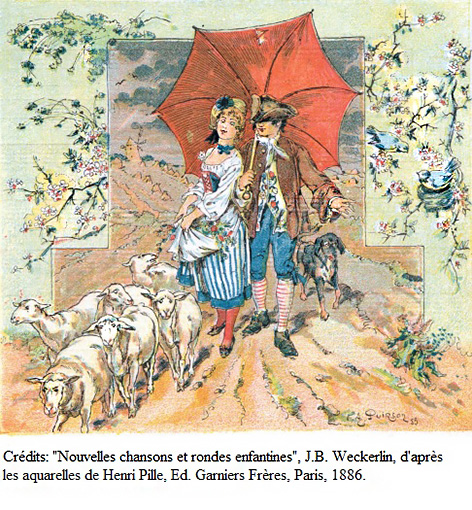 Il pleut, bergère
It's Raining, Shepherdess
Chanson traditionnelle
Traditional Song
Il pleut, il pleut, bergère,
Presse tes blancs moutons ;
Allons sous ma chaumière,
Bergère, vite, allons :
J'entends sur le feuillage,
L'eau qui tombe à grand bruit ;
Voici, voici l'orage ;
Voilà l'éclair qui luit.

Entends-tu le tonnerre ?
Il roule en approchant ;
Prends un abri, bergère,
À ma droite, en marchant :
Je vois notre cabane…
Et, tiens, voici venir
Ma mère et ma sœur Anne,
Qui vont l'étable ouvrir.

Bonsoir, bonsoir, ma mère ;
Ma sœur Anne, bonsoir ;
J'amène ma bergère,
Près de vous pour ce soir.
Va te sécher, ma mie,
Auprès de nos tisons ;
Sœur, fais-lui compagnie.
Entrez, petits moutons.

Soignons bien, ô ma mère !
Son tant joli troupeau,
Donnez plus de litière
À son petit agneau.
C'est fait : allons près d'elle.
Eh bien ! donc, te voilà ?
En corset, qu'elle est belle !
Ma mère, voyez-la.

Soupons : prends cette chaise,
Tu seras près de moi ;
Ce flambeau de mélèze
Brûlera devant toi ;
Goûte de ce laitage ;
Mais tu ne manges pas ?
Tu te sens de l'orage,
Il a lassé tes pas.

Eh bien ! voilà ta couche,
Dors-y jusques au jour ;
Laisse-moi sur ta bouche
Prendre un baiser d'amour.
Ne rougis pas, bergère,
Ma mère et moi, demain,
Nous irons chez ton père
Lui demander ta main.
It's raining, it's raining, shepherdess,
Hasten your white sheep,
Let's go into my thatched cottage,
Shepherdess, quick, let's go.
I can hear on the foliage
The water that falls quite noisily,
Here comes, here comes the storm,
Here is the lightning that shines.

Do you hear the thunder?
It's rolling as it approaches;
Take shelter, shepherdess,
On my right, as you go,
I can see our cabin…
And look, here comes
My mother and my sister Ann
Who are going to open the barn.

Good evening, good evening, mother;
Sister Ann, good evening;
I am bringing my shepherdess
Close to you for the night.
Go dry yourself, my dear,
Near our fire;
Sister, keep her company.
Come in, little sheep.

Let's take good care, o mother,
Of her very nice flock;
Give more litter
To her little lamb.
It's done, let's go near her.
Well there! There you are?
In her corset, how beautiful she is!
Mother, look at her.

Let's have supper, take this chair,
You'll be next to me;
This larch* torch
Will burn in front of you;
Taste this dairy food,
But you do not eat?
The storm bothers you,
It has tired your steps.

Well then! Here is your bed,
Sleep there till daybreak;
Let me take, on your mouth,
A kiss of love.
Do not blush, shepherdess,
Tomorrow, my mother and I will
Go to your father's house
To ask for your hand in marriage.
Notes
*The larch is a type of tree - its wood was used for torches.

This song comes from the operetta "Laure et Pétrarque" (now lost?) written in 1780 by Philippe Fabre d'Églantine (1750 -1794). The music is by violinist Louis-Victor Simon (1764-1820).

Many thanks to Edit' Dupont for singing the 1st three verses of this song for Mama Lisa's World.
Sheet Music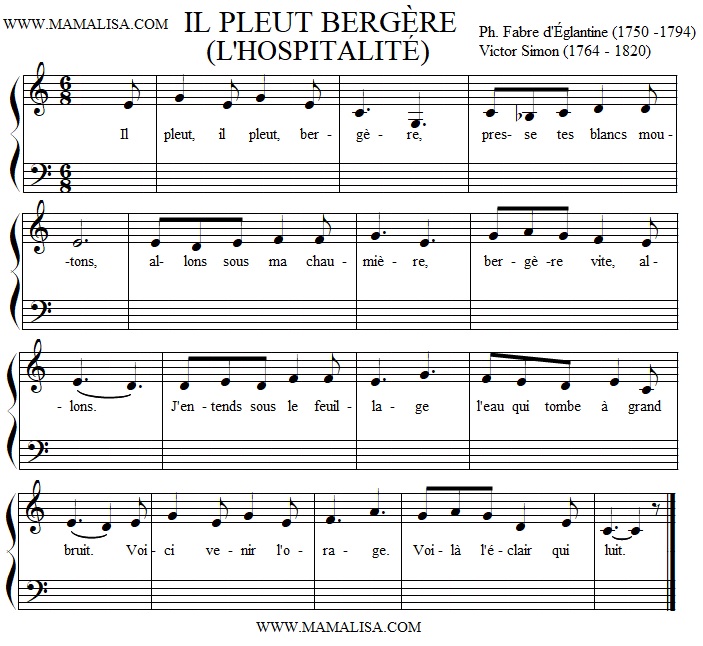 Thanks and Acknowledgements
Many thanks to Monique Palomares for contributing and translating (with Lisa) this song!
Merci beaucoup!