"My mother used to sing this song when I was a child." - Monique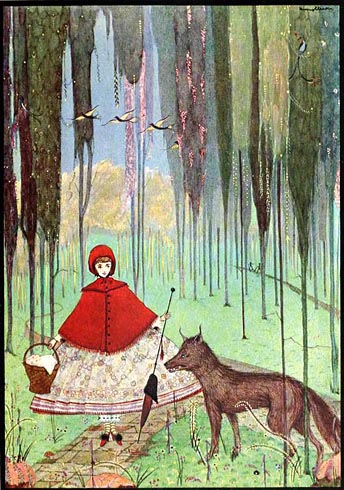 Le Petit Chaperon Rouge
Little Red Riding Hood
Chanson enfantine
Children's Song
Fort gentille elle est coiffée
D'un mignon coquelicot*,
On croirait voir une fée
Qui trottine en fins sabots.

Où vas-tu Petit Chaperon Rouge,
Sans quenouille ni fuseau ?
Où vas-tu petit chaperon rouge,
Gazouillant comme un oiseau ?

Je m'en vais au bois seulette
Sous l'ombrage murmurant,
Et j'apporte une galette
À ma bonne Mère-grand.

Méfie-toi Petit Chaperon Rouge
Maître loup t'a fait causer,
Méfie toi Petit Chaperon Rouge
C'est trop rire et s'amuser.

Dédaignant la fleur nouvelle
Et l'abeille au vol errant,
Maitre Loup court devant elle
Pour manger la Mère-grand.

Chante et rit, Petit Chaperon Rouge,
La noisette abonde ici,
Chante et rit Petit Chaperon Rouge,
Tu seras croquée aussi.
Very nice, she's wearing
A cute red hood*,
You'd think you're seeing a fairy
Trotting in fine clogs.

Where are you going, Little Red Riding Hood,
Without a distaff** or spindle?
Where are you going, Little Red Riding Hood,
Chirping like a bird?

I'm going to the woods alone
Under the murmuring shade,
And I'm bringing a flat cake
To my good Grandmother.

Beware, Little Red Riding Hood,
Master Wolf kept you talking,
Beware, Little Red Riding Hood
There's too much laughing and playing.

Scorning the new flower
And the wandering bee's flight,
Master Wolf runs ahead of her
To eat the Grandmother.

Sing and laugh, Little Red Riding Hood,
Hazelnuts abound here,
Sing and laugh, Little Red Riding Hood,
You'll be eaten too.
Notes
*Literally, "poppy". One wonders if it was poetic license or a play on words between "coquelicot" (meaning "poppy") and "coqueluchon" (meaning "hood").
**A distaff is a stick or spindle that wool or flax is wound around for spinning.

*****

Lyrics: Maurice Bouchor (1855 - 1929), Music: Arr.: Jules de Brayer (1837-1916)
Comments
Monique said, "The end may seem upsetting nowadays, when we're told a sanitized and reassuring ending. The first published version of the story was by Charles Perrault in France in 1697 (though it can be traced back to many different European countries). It ended the way this song does, as it was meant to, and as all tales were, to teach a lesson. Young girls were thus taught to beware of unknown men talking nicely to lure them off the right path. Note also that in colloquial French, 'to have seen the wolf' means for a woman to have lost her virginity."

Sheet Music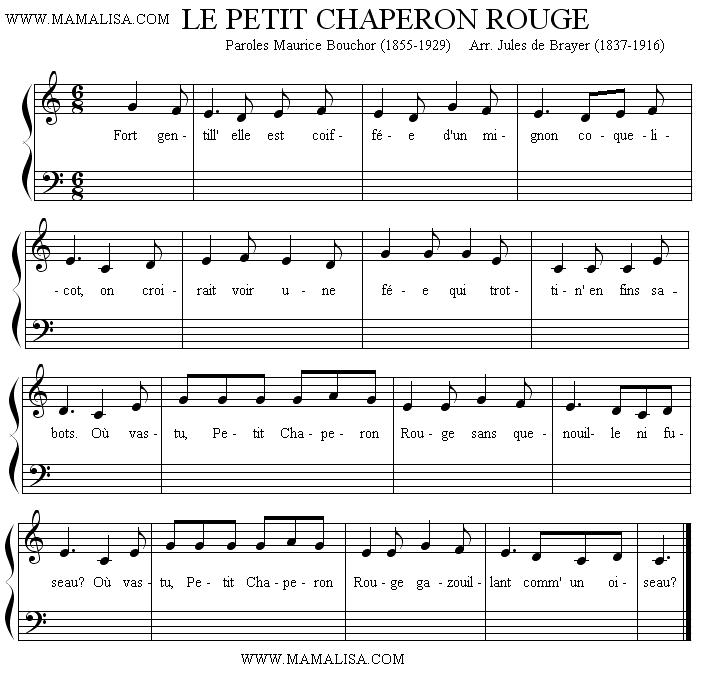 Thanks and Acknowledgements
Many thanks to Monique Palomares for contributing, translating this song (with Lisa) and for the comment and mp3.

The image comes from "The Fairy Tales of Charles Perrault" (1922), illustrated by Harry Clarke.
Merci beaucoup !