This song was known by all the Paris children who would go to the Guignol puppet shows. Guignol was a famous puppet created in Lyons in the early 1800's. The English equivalent is Punch and Judy.
Arlequin dans sa boutique
Harlequin in His Shop
Chanson enfantine
Children's Song
Arlequin dans sa boutique
Sur les marches du palais,
Il enseigne la musique
À tous ses petits valets.

Refrain
Oui, Monsieur Po,
Oui, Monsieur Li,
Oui, Monsieur Chi,
Oui, Monsieur Nelle,
Oui, Monsieur Polichinelle.

Il vend des bouts de réglisse
Meilleurs que votre bâton,
Des bonhommes en pain d'épice
Moins bavards que vous, dit-on.

(Refrain)

Il a des pralines grosses
Bien plus grosses que le poing,
Plus grosses que les deux bosses
Qui sont dans votre pourpoint.

(Refrain)

Il a de belles oranges
Pour les bons petits enfants,
Et de si beaux portraits d'anges
Qu'on dirait qu'ils sont vivants.

(Refrain)

Il ne bat jamais sa femme,
Ce n'est pas comme chez vous,
Comme vous il n'a pas l'âme
Aussi dur' que des cailloux.

(Refrain)

Vous faites le diable à quatre
Mais pour calmer vot' courroux,
Le diable viendra vous battre,
Le diable est plus fort que vous.

(Refrain)
Harlequin in his shop
On the palace stairs
Teaches music
To all his little servants.

(Chorus)
Yes, Mister Pun,
Yes, Mister Chi,
Yes, Mister Nel,
Yes, Mister Lo,
Yes, Mister Punchinello.

He sells bits of licorice
That are better than your stick,
Gingerbread men
Less chatty than you, they say.

(Chorus)

He has big pralines,
Much bigger than a fist,
Much bigger than the two humps*
That are in your doublet.

(Chorus)

He has fine oranges
For good little kids
And angels' portraits so beautiful
That you'd think they were alive.

(Chorus)

He never beats his wife,
That's not like you,
Unlike you, his soul
Is not as hard as stones.

(Chorus)

You make mischief
But to calm down your anger,
The devil will come to beat you,
The devil is stronger than you.

(Chorus)
Notes
*Humps because Punchinello is hunchback.

This song goes back to the French Second Empire (1852 – 1870).

Sheet Music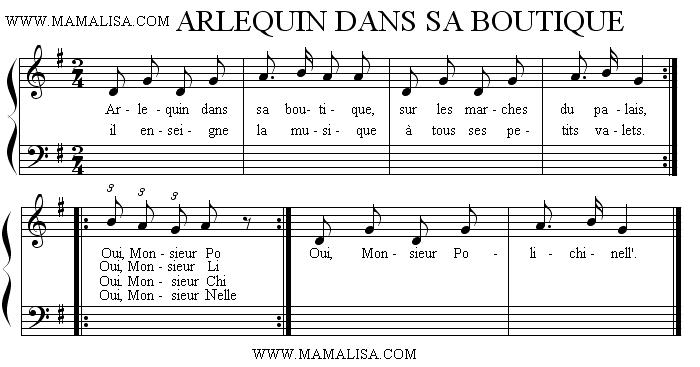 Thanks and Acknowledgements
Translation and Notes: Monique Palomares.
Merci beaucoup !