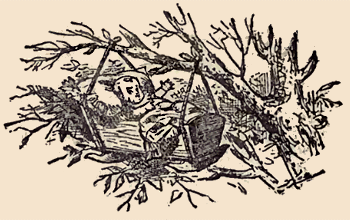 Moe moe pepe
Sleep, Sleep, Baby
Moe moe pepe,
Tumutumu le la'au
A agi le matagi,
E lue atu ma toe sau
A gau le lala,
Pau le moega
Malie oe pepe
Lau fa'aluega.
Sleep, sleep, baby,
On the treetop
When the wind blows
The cradle will rock
When the bough breaks
The cradle will fall
Be pleased baby
Because you rock.

Thanks and Acknowledgements
Images: Mother Goose's nursery rhymes, tales and jingles : complete edition, with notes and critical illustrative remarks by Gannon, W (1902).