About Anzac Day, with a Recipe for Anzac Biscuits
April 15th, 2018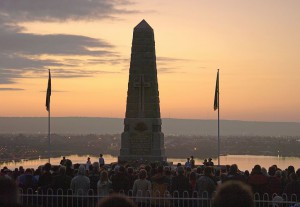 Anzac Day is a day of remembrance on April 25th in Australia, New Zealand, Cook Islands, Niue, Pitcairn Islands, Tonga, Papua New Guinea and Samoa. The acronym ANZAC stands for Australian and New Zealand Army Corps, whose soldiers were known as Anzacs. The holiday started as a way to commemorate Anzac soldiers in WW1.
Baking and selling Anzac biscuits began as a way to raise money to send supplies to the embattled Australian and New Zealand Soldiers who had landed at Gallipoli during WW1 on April 25, 1915. Later, they were baked annually to commemorate those who had fought and died at Gallipoli. Gradually the commemorations, including a Dawn Service and the Last Post bugle call (listen here), were extended to any Australian or New Zealand soldiers who have risked their lives in war. Today, the biscuits are eaten all year round but especially around Anzac Day on April 25th. Another tradition is "Gunfire Breakfast" which is to drink coffee with rum. It's what many soldiers would drink before battle. Poppies are a symbol of remembrance.
Here's a recipe for Anzac Bicuits, sent by Elizabeth Brien of Melbourne Australia. She wrote: '"Here is a classic recipe for mouthwatering Anzac biscuits"…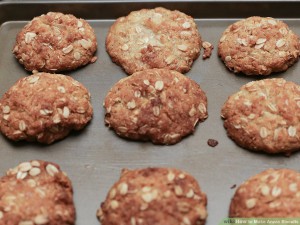 Recipe for Anzac Biscuits (Cookies)
Ingredients
1 cup Plain Flour
2/3 cup Sugar
1 cup Rolled Oats
1 cup Dried Coconut
1/2 cup Unsalted Butter (~1 stick + 1T. or 125 g.)
1/2 teaspoon Baking Soda
1/4 cup Golden Syrup
1 tablespoon boiling water
Directions:
Preheat oven to 355 F (180 Celsius). Line a cookie sheet with parchment paper.
1. Sift flour and sugar into a large mixing bowl. Mix in oats and coconut. Make a well in the center.
2. Combine butter and golden syrup in a small pan. Stir over low heat until butter has melted and mixture is smooth. Remove from heat. Dissolve baking soda in water; add immediately to butter mixture. It will foam up instantly. Add this butter mixture to dry ingredients using a wooden spoon; stir until well-combined.
3. Drop 1 level tablespoon of mixture at a time on to prepared tray. Flatten gently with fingers, allowing room for spreading.
4. Bake 20 minutes or until just browned.
5. Remove from oven; transfer to wire rack to cool.
Many thanks to Elizabeth Brien for sharing her recipe with us!
Enjoy!
-Mama Lisa
1st Image: Anzac Day Dawn Service by Photographs by Gnangarra…commons.wikimedia.org, CC BY 2.5 au.
2nd Image: Wikihow, cc.
Recording: Last Post, Wikipedia, cc.
This article was posted on Sunday, April 15th, 2018 at 4:04 pm and is filed under Anzac Biscuits, Anzac Day, Australia, Cook Islands, Cookies, Countries & Cultures, Desserts, Holidays Around the World, New Zealand, Niue, Papua New Guinea, Recipes of the World, Samoa, Tonga. You can follow any responses to this entry through the RSS 2.0 feed. You can skip to the end and leave a response. Pinging is currently not allowed.
2 Responses to "About Anzac Day, with a Recipe for Anzac Biscuits"
Keith Craig Says:
April 21st, 2018 at 9:23 am

Hi,
A little update on the poppies tradition – the poppies were the first flowers to grow in the fields in France after the terrible battles in WWI. One Canadian medical officer, Lieutenant John McCrae wrote a poem "In Flanders Fields", talking about the poppies growing among the graves. The first two lines are:
In Flanders fields the poppies blow,
Between the crosses row on row,

Later the poppy was officially adopted as a remembrance symbol.
https://nzhistory.govt.nz/war/anzac-day/poppies
http://www.greatwar.co.uk/poems/john-mccrae-in-flanders-fields.htm

Lisa Says:
April 21st, 2018 at 11:39 am

Thanks for sharing that Keith!
Leave a Reply