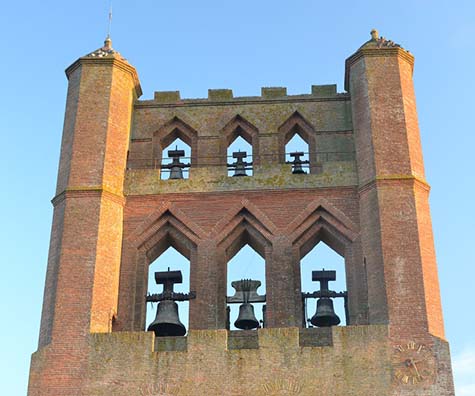 Bing, bang, kloc'hoù
Ding, Dong, Bells
Nursery Rhyme
Nursery Rhyme
Bing, bang, kloc'hoù
Piv zo marv ?
- Jegou Begou
Gant ur c'horfad gwadegennoù
- Pelec'h vo douaret ?
- E kornig ar vered
Lec'h ma kan an evned.
Ding, Dong, Bells.
"Who died?"
"Jegou Begou*
From a bellyful of black pudding."
"Where will he be buried?"
"In the little corner of the graveyard
Where the birds sing."**
Notes
* Begou: big mouth
** Alternate version of this line: "Lec'h ma kac'h an evned." [Where the birds poo (literal translation is s#*t).]

In the recording the children chant "bim bam kleier" twice at the beginning and twice at the end (instead of "Bing, bang, kloc'hoù").
Thanks to Julie Moreau Quilliou for sharing this recording with us!
Thanks and Acknowledgements
Many thanks to Jean-Paul Piriou for contributing this rhyme. Photo by Monique Palomares.
Trugarez!