"I am sending an Okinawan song called Tinsagunu-Hana (Flowers of the Garden Balsam). It's a traditional song within the Okinawa dialects. They believe that dying one's nails with the flowers of garden balsam wards off evil."

Garden Balsams are a species of Impatiens found in southern Asia.

Note: You can find the pronunciation of this song in the notes.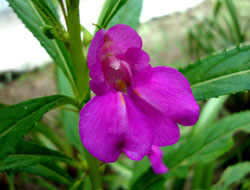 てぃんさぐぬ はな
沖縄県民謡

Flowers of the Garden Balsam
(Tinsagunu Hana)

(Okinawa Dialect)
(English)
てぃんさぐぬ はなや
ちみさちに すみてぃ
うやぬ ゆしぐとぅや 
ちむに すみり

てぃんぬぶり ぶしや
ゆみば ゆまりゆい
うやぬ ゆしぐとぅや
ゆみや ならん

ゆるはらす ふにゃ
にぬふぁぶし みあてぃ
わんなちぇる うやや
わんどぅ みあてぃぬ

たからだま やてぃん
みがかにば さびす
あさゆちむ みがち
うちゆ わたら

まくどする ひとや
ぬちや いつまでん
おもむことん かのて
ちよぬ さかい

なしば なんぐとん
なゆるぐと やしが
なさぬゆい からど
ならぬ さだみ

Dye your nails with the flowers
Of the Garden Balsam,
Dye your mind with the words
Of your parents' advice.

Countable are the stars in the sky
Twinkling at midnight,
Uncountable are the teachings
Of your parents.

The guide is the North Star
For ships sailing on dark nights,
And the only guide for me
Is my beloved parents.

Polish your jewelry
So it doesn't get rusty,
Polish your mind
Not to become a dropout.

Accomplishments bring prosperity
For a long time in your precious life,
Flourish forever
For your descendants to live long.

Everything can be realized
If you have wishes and drive,
Nothing can be realized
If you are dull or idle.

Notes
Pronunciation:

Tinsagunu Hana
(Folk Song in Okinawa Prefecture)

Tinsagunu hanaya
Chimisachini sumitei
Uyanu yusigutuya
Chimuni sumiri

Tinnuburi busiya
Yumiba yumariyui
Uyanu yusigutuya
Yumiya naran

Yuruharasu funya
Nunufabusi miatei
Wannacheru uyaya
Wandu miatinu

Takaradama yatin
Migakaniba sabisu
Asayutimu migachi
Uchiyu watara

Makudo suru hitoya
Nuchiya itsumaden
Omomukoton kanote
Chiyonu sakai

Nashiba nanguton
Nayuruguto yasiga
Nasanuyui karado
Naranu sadami

*****

Meaning in standard Japanese:

ほうせんかの花

ほうせんかの花は
爪先に染めなさい。
親の言うことは、
心に染めなさい

天の星々は
数えようと思えば数えられるが、
親の言うことは、
数えられない

夜、沖に出る舟は
北極星が目当て
私を産んでくれた親は
私が目当て

宝石でも
磨かないと錆びてしまう
朝晩心を磨いて、
世の中を生きていこう

誠実な人は
後はいつまでも、
思っていることが叶って
末代まで栄える

成せば何事も
成ることだが
やらないから
成らないのが当たり前
Comments
Author and composer unknown.

Sadao wrote:

About 'Okinawa':

Okinawa prefecture is located in the most west and the most south of Japan with about 360 islands surrounded by beautiful coral reefs in the East China Sea and Pacific Ocean. It is close to Taiwan with the distance of about 100 km.

Until the 19th century, Okinawa was a kingdom with the name of 'Ryukyu'. In 1872, it became a part of Japan. During WWII, the US occupied Okinawa and ruled it until 1972, when they returned it to Japan. There are still many US military bases residing on 10% of the Okinawa land. The military bases now occupy an important position for the strategy of the Far East.

About Okinawan Music and People:

In the Okinawan musical scale, they neglect the 're' and 'la' of the standard European scale (do [re] mi fa sol [la] ti). It is the same in Indonesia and some other south-east countries.

Many people like music and dancing while using some musical instruments, such as 'sanshin' - an instrument that has three strings - and other instruments. Okinawa is one of the most long-lived prefectures in Japan, even though they had a harsh experience in World War II.

Many thanks to Sadao Mazuka for contributing this song, for translating it into English, for the 2 recordings and the commentary.
The 2nd mp3 is the music only.

Thanks and Acknowledgements
Image: Wikipedia
Arigato gozaimasu!