You can find the pronunciation of this lullaby in the notes.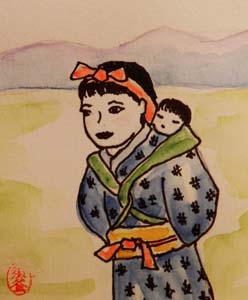 守りもいやがる 盆から先にゃ
雪もちらつくし 子も泣くし

盆がきたとて 何嬉かろ
かたびらは無し 帯はなし

この子よう泣く 守りをばいじる
守は一日 やせるやら

早よ行きたや この在所越えて
向うに見えるは 親の家
向うに見えるは 親の家

I don't like work such as babysitting,
The baby cries and it's snowing outside tonight.*

I'll go back to my native home, when I get days off.
But I don't have a nice dress or shoes to wear.

This baby cries so often and I can't sleep too well tonight.
Sleep my baby and let me sleep till tomorrow morning.

Today, I'm going back to my home over the mountain.
I can see my parent's humble house over there.
I can see my parent's humble house over there.

Notes
京都府民謡 - Kyoto Folk Song

Pronunciation:

Mori mo iyagaru, Bon kara saki-nya
Yuki mo chiratsuku-shi, Ko mo naku-shi

Bon ga kita-tote, Nani ureshi-karo
Katabira wa nashi, Obi wa nashi

Kono ko you naku, Mori wo ba ijiru
Mori mo ichi-nichi, Yaseru-yara

Hayo-mo yuki-taya, Kono zaisho koete
Mukou ni mieru wa, Oya no uchi
Mukou ni mieru wa, Oya no uchi

*****
*Sayuri wrote about the meaning of the first two lines of this song:

"Hi! My name is Sayuri and I really loved your blog! About the music Lullaby of Takeda I'm almost 100% sure the correct translation [of the first two lines] isn't about days off but about the 'Bon matsuri' a Japanese Buddhist custom to honor the spirits of one's ancestors, something like 'El día de los muertos' (Day of the Dead) in Mexico. Bon is a major holiday and even nowadays people come back to their home land to visit the family graves, pray at the temples and participate in the festival. The girl in the song is looking forward for the holiday when she will be able to visit her home."

We asked Debbie Davidson, a Japanese English translator, about a translation of the first two lines. She replied:

"A more careful translation would be: 'Babysitting gets more tiresome after o-Bon. The snow begins to fall and the baby cries all the time.'"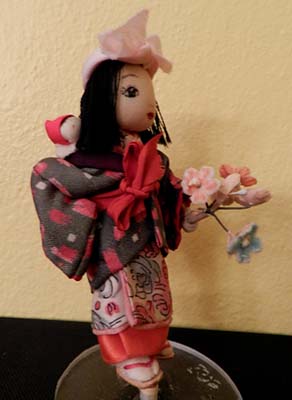 Comments
Linda Austin wrote, "The Lullaby of Takeda is so sad! My mother was made to leave her home after sixth grade to live in a rich person's home and babysit to make money for her family. Her older sisters had done the same. Their mother (my grandmother) said they would have better food to eat that way. I've also attached a photo (seen on this page) of the babysitting doll my mother made when she was a girl, not sure if before she was sent away or later, although she was sometimes allowed to walk across town with the baby to visit her parents. The doll's hair is glued on with mashed cooked rice. The lullaby words were a familiar story for many old-generation Japanese living through the lean years of the Depression and effects of war in Manchuria."

"This song is also a kind of work song for some poor young girls in olden times, as it were. I've heard this song on TV and the radio in Japan many times." -Sadao

Many thanks to the Miyoshi Family for sharing their rendition of Takeda Lullaby.
Many thanks to Sadao Mazuka for singing this song for us in Japanese and in English!
The recording below is of this song in English (very close to the English translation above).
Thanks and Acknowledgements
Many thanks to Sadao Mazuka for contributing this song with the translation!

Many thanks to Linda Austin from Moonbridge Books for the etegami illustration and for the photo! Check out Linda's book about her mother's experiences in Japan during WWII.

Many thanks to Sayuri for writing to us about the meaning of the song!"

Thanks to Debbie Davidson for helping with the meaning of the song! Check out Debbie's site about Etegami!
Arigato gozaimasu!