Tourne, tourne, petit moulin
Spin, Spin, Little Mill
Tourne, tourne, petit moulin
Frappent, frappent, petites mains,
Vole, vole, petit oiseau,
Nage, nage, poisson dans l'eau.
Petit moulin a bien tourné,
Petites mains ont bien frappé,
Petit oiseau a bien volé,
Petit poisson a bien nagé.
Spin, spin, little mill,
Clap, clap, little hands,
Fly, fly, little bird,
Swim, swim, fish in the sea*.
Little mill has spun nicely,
Little hands clapped nicely,
Little bird flew nicely,
Little fish swam nicely.
Notes
*Literally, "in the water".
Game Instructions
Baby rolls his hands*
Baby claps hands
Baby moves hands or arms as if flying,
Baby moves hands or arms as if swimming.
(Repeat)

*Baby rolls his hands around each other - The rolling movement you make with your hands to imitate any rolling thing, a boulder rolling down a mountain, the spin of a car wheel, etc.

Many thanks to Anaïs and Élodie from the IUFM (French Teachers Training College) from St Brieuc (Brittany) for singing this song for us.
Sheet Music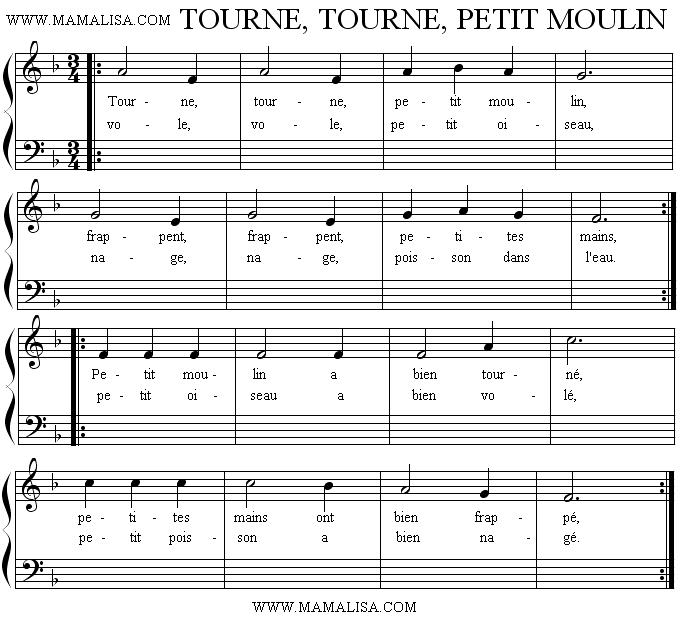 Thanks and Acknowledgements
Translated by Monique and Lisa.
Merci beaucoup!