"Turkey in the Straw" is an American folk song from the 19th century. There are many variations of this song!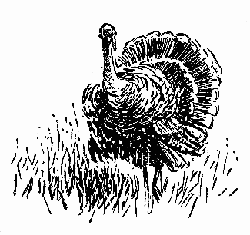 As I was a-goin'
On down the road
With a tired team
And a heavy load
I cracked my whip
And the leader sprung
I said, "Hey, hey,"
To the wagon tongue.

(Chorus)
Turkey in the straw,
Haw, haw, haw!
Turkey in the hay*,
Hay, hay, hay!
Roll 'em up and twist 'em up
A high tuck a-haw
And hit 'em up a tune called,
Turkey in the Straw.

Went out to milk
And I didn't know how
I milked the goat
Instead of the cow
A monkey sittin'
On a pile of straw
A-winkin' at
His mother-in-law.

(Chorus)

I came to the river
And I couldn't get across
So I paid five dollars
For a big bay hoss
Well, he wouldn't go ahead
And he wouldn't stand still
So he went up and down
Like an old saw mill.

(Chorus)

Met Mister Catfish
Coming down stream,
I says Mister Catfish,
What do you mean?
Caught Mister Catfish
By the snout
And turned Mister Catfish
Inside out.

(Chorus)

Did you ever go fishin'
On a warm summer day
When all the fish
Were swimmin' in the bay
With their hands in their pockets
And their pockets in their pants
Did you ever see a fishie
Do the Hootchy-Kootchy Dance?

(Chorus)

As I came down
The new cut road,
Met Mr. Bullfrog,
Met Miss Toad
And every time
Miss Toad would sing,
Old Bullfrog
Cut a pigeon wing.

(Chorus)


You can hear the US Air Force Band's instrumental version of this song in the mp3.
MP3 #2: United States Air Force Band