Strawberry Soda Recipe for Juneteenth
June 18th, 2021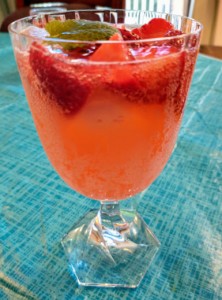 Juneteenth celebrates the day the last slaves in the U.S. learned that slavery had been abolished and they were free. Even though slavery was officially abolished by Abraham Lincoln in the US in 1862, the Confederate South didn't enforce the law. June 19th, 1865 is when Union troops finally reach the last holdout of the Confederacy and read out loud a proclamation that slavery had been abolished.
This is an exciting year because just yesterday, the US government declared that Juneteenth is an official federal holiday starting immediately!
Juneteenth has been celebrated since 1866 in some states. So the holiday already has many traditions. One of them is making red food and drinks, including Strawberry Soda!
According to Afroculinaria, "The practice of eating red foods -red cake, barbecue, punch and fruit- may owe its existence to the enslaved Yoruba and Kongo brought to Texas in the 19th century. For both of these cultures the color red is the embodiment of spiritual power and transformation. Enslavement narratives from Texas recall an African ancestor being lured using red flannel cloth, and many of the charms and power objects used to manipulate invisible forces required a red handkerchief."
Many people also see red as a symbol of the bloodshed and resilience of the slaves.
One way to recognize Juneteenth is to make Strawberry Soda. I'd like to share my recipe below…
Recipe for Strawberry Soda
Makes 2 Servings
Ingredients
12 Strawberries
6 T. Sugar
12 ounce can Sparkling Water or Club Soda (Strawberry or Plain)
5 Mint Leaves
1-2 teaspoons Lemon Juice (freshly squeezed)
Ice (optional)
1. Make strawberry syrup by placing in a small pot 6 tablespoons of Sugar, 1/4 cup of Water, 6 sliced Strawberries and 2-3 chopped up Mint leaves and bring to a boil. Then lower to a simmer until thick like a syrup. Puree the mixture using a potato masher or an immersion blender until smooth. Then let cool.
2. Pour the mixture through a mesh strainer. Push the mixture through the holes with a spoon. Whatever is left in the strainer can be put in a glass container in the fridge and used as jam over the next couple of days. Let the liquid that went through the strainer cool off. This is your strawberry syrup.
3. Pour the sparkling water or club soda into a large cup. Add 1 teaspoonful of lemon juice. Then add 4 tablespoons of the strawberry syrup and mix. You can add more lemon juice and syrup to taste. Stir the mixture. Serve over ice and garnish with slices of strawberries and a mint leaf.
Adults can optionally add a tablespoon of Vodka or Rum.
Happy Juneteenth!
Mama Lisa
Leave a Reply